Scots Tory plea to close 'granny' loophole on tuition fees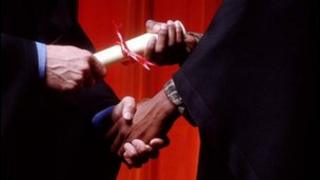 A plea has been made to close the so-called "granny loophole" which could allow students from the rest of the UK to secure free university education.
The Scottish government will pay the fees of home students and EU citizens, but not those from the rest of the UK.
Scottish Tory leader Ruth Davidson suggested that anyone with a grandparent from the 26 other states could get round the system.
First Minister Alex Salmond said the European situation was not new.
The clash between the two leaders came during First Minister's Questions at Holyrood.
Ms Davidson called for Mr Salmond to take action after it emerged Northern Irish students were using passports from the Republic to get around the different UK rules.
She said: "Yesterday we found that any UK citizen with an Irish granny can get in for free under this loophole.
"Now it emerges that anyone with a grandparent from any of the 26 EU nations could potentially have their fees met by Scottish taxpayers too.
"The Scottish government's defence for this massive confusion appears to be, in short, that nobody's noticed yet so it will all be alright.
"Well, that's not good enough, because we need to clear up this confusion now. We need to fix the Guinness loophole."
Mr Salmond said the European situation was not new and criticised the "disastrous" decision by the UK government to allow increased fees in England in the first place.
He said: "That is what created the issue that this government had to deal with."
Mr Salmond said cries of doom and gloom have "come to naught".
He added: "Her [Ms Davidson] imagined calamities that she thinks are going to happen haven't happened."
Fees are rising to a maximum of £9,000 across the UK but in Scotland, pupils who have lived there for at least three years do not have to pay.
This is also the case for EU students, as EU law does not allow discrimination against those from other member states.
Irish passport holders in Northern Ireland count as EU students.