Thousands of public sector workers in Scotland join strike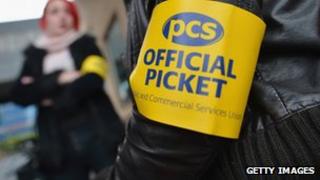 Tens of thousands of public sector workers in Scotland have joined a 24-hour strike about pensions changes.
Job centre workers, some NHS staff and prison officers joined the walkout.
Despite a voluntary deal not to strike, members of the Prison Officers' Association (POA) took part in the action.
Picket lines have been staffed throughout the day at tax offices and government buildings, including the Scottish Parliament.
Workers at Faslane nuclear base and both Edinburgh and Stirling Castle were also on strike.
Rallies were held in Inverness and Dundee and a lunchtime gathering took place at Glasgow's Royal Concert Hall.
Other workers who have been striking include lecturers, health visitors, pharmacists and paramedics.
Every jail north of the border has been affected by the walkout, except the privately-operated Kilmarnock and Addiewell prisons.
The Scottish Prison Service said all jail transfers and visits had been cancelled for the day.
It said under trade union legislation, the POA should have given seven days' notice of industrial action - which it had failed to do.
Although officers in England and Wales are outlawed from striking, the union said 80% had walked out for half a day.
Unions are protesting against proposed government changes to public sector pensions. These would result in workers having to:
pay more into their pension
work for longer
accept a pension based on a "career average" salary, rather than the current final salary arrangement which currently applies to many workers
The unions complain that the changes will leave public sector staff paying more and working longer for less.
Lynn Henderson, Scottish secretary for the PCS, said: "This strike is part of a national co-ordinated campaign in defence of public sector pensions. Scottish public sector workers are suffering pension losses, at the same time as their pay is being frozen for a second year by Scottish and UK governments.
"The targeting of public sector pensions by the UK government is part of the flawed economic agenda of austerity which disguises a wider ideological attack on the public sector and public sector workers."
The Prison Officers Association in Scotland said its members were particularly worried they would be forced to work into their late 60s.
Phil Fairlie, the POA's Scottish national chairman, said: "We believe the UK government owes our members a duty of care and the right to retire with dignity in a good state of mental and physical health and not to be subjected to the stressful and demanding environment of a prison in their elder years.
"A pension age of 68 is simply not acceptable to this union."
Scotland's Finance Secretary John Swinney said the civil service pension scheme was reserved to Westminster.
He added: "The UK government's short-term changes to pensions are nothing more than a cash grab to reduce the deficit and do nothing to address the sustainability of pensions over the long term.
"In partnership with trade unions and employer representatives, we are already discussing the long-term reform of public sector pensions in Scotland to apply from April 2015 that will reflect the unique nature of our workforce."