Alex Salmond launches Queen of Scots app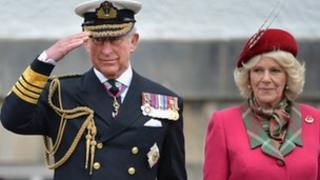 First Minister Alex Salmond has unveiled a smartphone app celebrating the Queen's reign in Scotland.
The free app, being released to coincide with the Diamond Jubilee, aims to help people learn more about significant Scots milestones.
Mr Salmond wants Scotland to become an independent country, but said the Queen would be retained as head of state.
The announcement came as Prince Charles was in Edinburgh for a Royal military march, marking the Jubilee.
The Scottish government said it would be playing a part in a series of events marking the Queen's 60 years on the throne.
The first minister said: "Among the initiatives, a smartphone app will help commemorate the Jubilee, by recalling significant milestones of the Queen's reign.
"It will be an exciting, modern testament to Her Majesty, celebrating the best of Scottish technology while at the same time looking back over the past 60 years."
Meanwhile, Charles and Camilla, known as the Duke and Duchess of Rothesay in Scotland, received a royal salute from a parade of Navy, Army and RAF personnel in Scotland's capital.
They watched the final stage of the march, which started at Edinburgh Castle and continued down the Royal Mile into the forecourt of the palace of Holyroodhouse.
More than 100 people lined the streets at the bottom of the Royal Mile and were joined by Mr Salmond, who watched the 250-strong parade pass the Scottish Parliament and into the palace grounds.