Green firm calls for change to wind turbine planning rules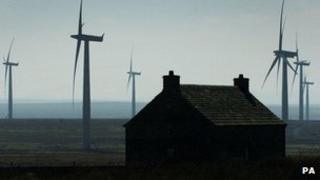 A renewables firm has told MSPs that planning authorities need to approve more wind turbine developments.
MEG Renewables said the planning process was putting too many obstacles in the way of small to medium-sized schemes.
The firm's managing director, Neil McGeoch, gave his views to Holyrood's Economy, Energy and Tourism Committee.
The Scottish government said it wanted "the right developments in the right places".
Ministers have set a target to see the equivalent of 100% of Scotland's electricity needs coming from renewables by 2020.
The government also wants 500 megawatts of renewable energy capacity to be in community or local ownership by the same date.
MEG Renewables, which invests in small to medium-sized renewable projects, said local authorities, which determine many planning applications, were "largely resistant to turbines in that height range".
Mr McGeoch, said that in order for Scotland to achieve its renewable energy targets by 2020, "there will have to be a quantum shift" in the local planning process as it stood.
He added: "While national policy is very supportive of renewable energy development, there appears to be no such sentiment at local authority level.
"Our experience has been that, in spite of the decreed presumption in favour of medium-scale wind developments, there is always some way in which a local authority can legitimately block a planning application."
Mr McGeoch said the planning system was "the single greatest challenge facing medium-scale wind developments" and called for a new planning band to deal with mid-sized turbines up to 80m tall.
Meanwhile, Steven Watson, of the charity Community Energy Scotland, told the committee it cost £40,000 to £60,000 to take an application through the planning process.
He said people had to "hope for the best", adding: "It's a bit like roulette how that ends up being decided."
Mr Watson said there was a need for councils to "be told there is an expectation that they will enable these developments to go ahead".
A Scottish government spokeswoman said: "Scottish planning policy sets out the framework for the development of wind farms to manage impact on communities, landscape and the natural environment.
"Planning authorities, and where appropriate the Scottish government, will only allow wind farms to be built where the impacts have been found to be acceptable. Unsuitable applications are rejected."