Call for inquiry into Salmond adviser and News Corp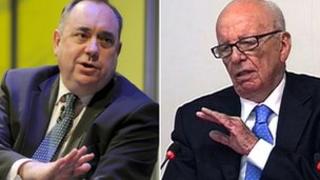 The Labour party is calling for a "formal examination" of the role of a Scottish government adviser and his dealings with News Corporation.
It follows evidence given by James Murdoch at the Leveson inquiry.
During the session, a News Corporation email was read out suggesting Alex Salmond's adviser had agreed to call the UK culture secretary about BSkyB.
The opposition has asked whether Mr Salmond was prepared to lobby on behalf of News Corp's takeover bid for BSkyB.
The Scottish government later revealed the adviser referred to in the email was Geoff Aberdein, employed as a special adviser to the first minister.
Labour said it plans to write to the government's permanent secretary, Sir Peter Housden, to ask him to examine Mr Aberdein's conduct and whether or not he breached the code imposed on special advisers, who are classed as civil servants.
The party's parliamentary business manager, Paul Martin MSP, has also lodged a total of 25 written questions at Holyrood relating to the BSkyB bid, Mr Salmond's meetings with Mr Murdoch and the email from News Corporation, written by its European public affairs head Fred Michel.
'Obsessed'
Scottish Labour chief whip, James Kelly MSP said: "It is difficult to see the difference between the case of Culture Secretary Jeremy Hunt's adviser Adam Smith, who quit and Alex Salmond's adviser, Geoff Aberdein, who hasn't."
Last week Mr Salmond denied any wrongdoing and described the suggestion he would contact Mr Hunt as "email tittle-tattle".
The first minister said: "It's not representative of the fact."
A Scottish government spokesman insisted there had been no fault on the part of Geoff Aberdeen.
He said: "Contact between Mr Aberdein and News Corp representatives has been within the special adviser code of conduct - we will respond to the letter [from Labour] once it has been received."
An SNP spokesman added: "Labour are totally negative and obsessed with process in a desperate effort to distract attention from their lack of ideas and lack of ambition for Scotland's communities.
"Every single complaint they have made against the SNP government has been flung out."