Trump begins renewables mission in Scotland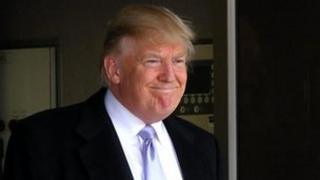 The American tycoon Donald Trump has arrived in Scotland ahead of his scheduled appearance at a Scottish parliament committee.
Mr Trump intends to tell MSPs that the Scottish government's policy of promoting wind power is a mistake.
He touched down at Aberdeen airport in a private jet at 15:00 on Sunday.
The billionaire will appear before the Scottish Parliament's Economy, Energy and Tourism Committee on Wednesday.
The US businessman's arrival coincided with the publication of an opinion poll which appears to show strong backing for renewable energy.
The YouGov poll was commissioned by industry body Scottish Renewables.
It asked people to respond to the statement: "I support the continuing development of wind power as part of a mix of renewables and conventional forms of electricity generation."
Of the 1041 people surveyed, 39% said they strongly agreed. A further 33% said they tended to agree.
Environmentalists have claimed that the poll shows Mr Trump to be out of touch with Scottish opinion.
WWF Scotland Director Dr Richard Dixon said: "We hope that Donald Trump reads this poll, as the results confirm that the people of Scotland overwhelmingly support windpower and its role in delivering a cleaner and greener future."