Scots Tories' concern over new mobile phone masts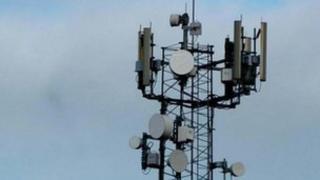 The Scottish government has been accused by Scottish Conservatives of showing a "blatant disregard" for local decision-making.
Research carried out by the Tories indicates that council decisions on mobile phone masts are twice as likely to be overturned on appeal as upheld.
It looked at 25 appeals made by mobile operators since the start of 2011.
Of these, 17 resulted in them being allowed to build new masts against the wishes of a local authority.
Conservative MSP Alex Johnstone said: "An explanation is needed on why such a high proportion of these contentious mobile phone mast applications are overturned.
"Although it is important to improve mobile phone coverage, particularly in rural areas, the Scottish Government has to acknowledge how sensitive some of these applications are, particularly when they are proposed in the heart of communities near schools and housing.
"These figures indicate blatant disregard for local decision making, and show the SNP will happily overrule the people who know best about their areas to suit their own policies.
"We have seen them do it in relation to wind energy, and now it appears it is even more of an issue with mobile phone masts."
The handling of appeals has been defended by the Scottish government.
A spokesman said: "Planning appeals are decided on a case-by-case basis, taking into account all available evidence, local circumstances and planning law."