Scottish council election: Edinburgh residents' concerns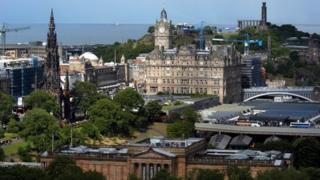 Edinburgh is Scotland's capital, financial hub and - according to many surveys - one of the best cities to visit in the world.
But, as the council elections approach in May and with issues such as the delayed trams high on the news agenda, are the locals getting restless?
"It's far worse since the trams project started," said taxi driver Alastair MacPherson.
He predicted the project, hit by a dispute with the contractors which will see the final cost increase to more than £1bn, would be a big issue with voters.
The company set up to deliver the trams - Tie - was later, in effect, scrapped by Edinburgh City Council.
"You're taking more time to get to jobs or to get people where they want to go," said Mr MacPherson, who raised concern about the level of disruption the tram construction work has been causing.
"I'm doing less work, because it takes me more time to either find a job or to get someone there.
"They are spending nigh on £1bn on a little toy train coming through that could have been spent elsewhere. We work with lots of disabled groups - they're all getting cut."
Alastair Dalton, transport correspondent at the Scotsman newspaper, said the tram project had been stuck in the faces of Edinburgh residents for some time.
He said: "Travelling round the city centre has been difficult for them, it's been an enduring headache.
"People who are proud of the city would say it gives a very bad view of the capital to visitors and to the rest of the world."
However, Mr Dalton said that, given there were now real signs the dispute may finally be over, politicians of all parties may be "mightily relieved" in the run up to the elections.
Or maybe not.
Cue the business community.
Ruth MacKay of So Uniq, a company specializing in marketing small firms, said Edinburgh needed strong council leadership which was open and ready to do business.
She said local decisions were more important than national ones, adding: "The council has more control over what happens in the city on a day-to-day basis - practical things like parking, transport, regulation and procurement contracts."
So what other big decisions is the city facing?
Gordon Macrae, of homeless charity Shelter, said housing policy was having a direct impact - and not in a good way.
"In Edinburgh there are not enough councils houses, there are not enough housing association homes, so people are having to pay more to rent in the private sector.
"These are the things that councils can do something about."
"People who need a home close by their work are having to look further and further afield, so we are seeing families moving to East Lothian, Fife, and it means people are having to travel further.
"They're not having the time with their children".
Important though these issues are, the trams project is the subject on which just about everyone in Edinburgh has an opinion.
The question is, come polling day, who will the voters blame?