Concern over Salmond Bute House 'tea party'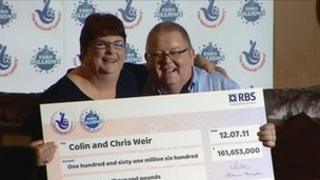 First Minister Alex Salmond is facing a formal complaint after meeting SNP donors at his official residence.
He hosted Euromillions winners Chris and Colin Weir for tea at Bute House days before they gave £1m to the party.
Labour said Mr Salmond broke the rules on using government and public resources for party political ends.
A spokesman for the first minister said the complaint was absurd, as Mr Salmond had his own stock of tea at Bute House.
Mr Salmond hosted the Weirs in September, shortly after they scooped the £161m jackpot.
Labour parliamentary business manager Paul Martin said he may have breached rules relating to separation of ministerial and constituency roles, the use of public resources for party political purposes and a duty to record formal meetings.
Mr Martin has written to former lord advocate Dame Elish Angiolini, an independent adviser on the Scottish ministerial code, to investigate his complaints.
He said: "It is not befitting of someone holding the office of first minister to chase after Lottery winners and hold tea parties for them at his official residence in a bid to secure donors for his separation campaign.
The ministerial codestates that, "government property should not generally be used for constituency work or party activities".
It adds: "A particular exception is recognised where a building has been designated as the first minister's official residence.
"Where ministers host party or personal events in the first minister's official residence, it should be at their own or at party expense, with no cost falling on the public purse."
Hitting back, a spokesman for the first minister, said: "Labour are reducing themselves to a total and utter laughing stock, and they don't even understand the rules.
"Every single complaint Labour have made under the code has fallen flat on its face, but they have now plumbed new depths of absurdity."
The spokesman said Bute House, in Edinburgh, was a private residence as well as a government building, and the Weirs visited for a cup of tea "as old friends".
"What makes Labour's complaint even more absurd is it so happens that Mr Salmond has his own stock of tea at Bute House and always has had, because of his liking for Scottish Blend and Chinese tea," added the spokesman.
"Labour's complaint really is the dregs in the cup."