Scottish Tory leader Ruth Davidson in 'join me' plea to rival parties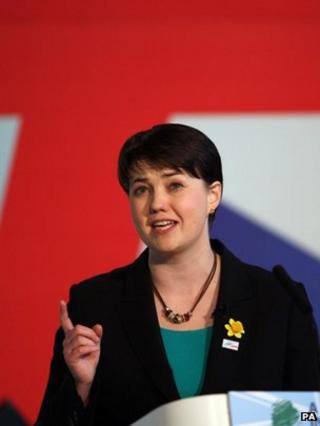 Scottish Conservative leader Ruth Davidson has called on her opponents to put their differences aside and join forces to campaign for the Union.
She told her party's conference the Tories must come together with Labour and the Lib Dems, ahead of the forthcoming independence referendum.
Ms Davidson said the SNP's Alex Salmond was neglecting Scotland's problems, in favour of ensuring a "Yes" vote.
She said he had failed to deliver on justice reforms and public services.
At the same time, Ms Davidson vowed to renew her party, and transform its electoral fortunes to become a campaigning force.
The Scottish government has expressed a preference to hold the referendum in autumn 2014.
Ms Davidson told the conference in Troon that, while there were dividing lines in politics, there were also "absolutes which can unite us".
In a message to the Scottish Labour and Lib Dem leadership and Scottish secretary, she said: "I say to Johann Lamont and to Margaret Curran, to Willie Rennie and to Michael Moore, Scotland expects us to work together, and we are.
"Scotland expects us to lead and we will.
"Scotland expects us to put aside our differences and pull together for the common cause - to give a voice to the silent majority, to build a chorus across our nation."
Ms Davidson said: "Today, we stand on the brink of history. The world is watching.
"This is our cause and we will not be found wanting.
"We will add our sound to the millions of voices declaring as one - a strong Scotland in a strong Britain, together for good."
Turning to the SNP and First Minister Alex Salmond, Ms Davidson said the party was so obsessed with "separation", it was abdicating its responsibilities as the devolved government of Scotland.
She said: "On the day when youth unemployment figures crashed through the 100,000 barrier - the highest Scotland has ever seen, where was the first minister?
"Not at his desk doing the job he has got, but down south at the London School of Economics agitating for the job he wants - president of a separate Scottish state."
'Failed to deliver'
Ms Davidson accused Mr Salmond of leaving Scottish business "ignored, abandoned and neglected", and, on justice, said he had failed to end automatic early release for prisoners which had seen, during his five years in power, the release of 35,000 convicts who had served half their sentences.
And she said nearly a third of non-custodial, community service orders were imposed with no work order, while half of supervised attendance orders were breached, adding: "The SNP stand charged with the criminal neglect of our justice system - guilty as charged."
The Tory leader also said the SNP had failed to deliver on increased childcare, while a quarter of Scotland's crèches had closed in two years, and teacher numbers had fallen by 4,000.
She told the conference: "Alex - get back to your desk, get back to work - do the job you were elected to do."
Ms Davidson said the Scotland Bill, currently going through Westminster, would deliver new tax and other powers to Holyrood, arguing Scotland had to focus on the powers it had, and the new ones it was getting.
At the same time, she painted the United Kingdom as a family of nations with strong economic and cultural ties.
She said: "Our position is clear - we are foursquare for the Union.
"Scotland is better off in Britain and you don't defend Scotland's place in the United Kingdom by compromising with the forces of separatism."
Ms Davidson called for a single question on the referendum ballot paper, rather than a second on more Holyrood powers, while saying delay was creating uncertainty and damaging business.
She said Mr Salmond was putting "ego before party and party before country".
'Hiding our light'
"There's a growing army - even in the ranks of the SNP - who don't understand either," said Ms Davidson.
"Why would a party whose stated aim, whose only agenda, is to break up Britain, be working so hard to avoid putting a single, straight question to the country?"
In what was her first conference speech as leader, Ms Davidson also promised a fresh direction for the Scottish Conservatives, including dumping their current tree logo.
She said the party would build a set of policies to "meet the challenges of our age and which reflect the aspirations of modern Scotland".
"We must be a campaigning force - to better deliver our message, and that need must be at the core of all we do and how we shape ourselves," said Ms Davidson.
She said of the voters: "We won't get their support from hiding our light under a bushel, from saying nothing to offend, for apologising for being Conservatives.
"No more shy Tories, because there are dividing lines in politics and we must never be afraid to speak out.
"This is our time, this is our moment, this is our duty and this is our calling."