Chancellor George Osborne announces offshore oil sector measures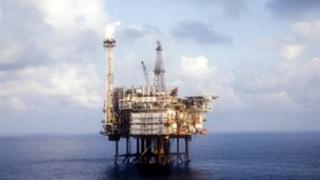 Measures to boost investment in the North Sea oil industry have been announced by Chancellor George Osborne.
His 2012 Budget includes new tax allowances, including a £3bn new-field allowance for large and deep fields to open up west of Shetland.
Mr Osborne also said the UK government planned to enter into contractual agreements on tax relief for North Sea decommissioning costs.
Tax experts said the steps could encourage "significant investment".
Mr Osborne told the House of Commons that he wanted to "ensure we extract the greatest possible amount of oil and gas from our reserves in the North Sea".
He announced: "We are today introducing a major package of tax changes to achieve this.
"We will end the uncertainty over decommissioning tax relief that has hung over the industry for years by entering into a contractual approach.
"We are also introducing new allowances including a £3bn new field allowance for large and deep fields to open up West of Shetland, the last area of the basin left to be developed. A huge boost for investment in the North Sea."
Scotland's Finance Secretary John Swinney said the test of the chancellor's budget was whether it would "deliver growth and fairness to Scotland".
He told BBC Scotland he believed it would not pass that test.
Mr Swinney said that 20% of the lowest income households in the country were carrying more of a financial burden than the highest earners.
He added: "At a time when growth is very low in the economy, and significant stimulus is required, the Chancellor has allocated next to no new resources and taken no major initiatives to support this effort.
"At the Prime Minister's request we gave the UK Government a list of shovel ready projects in Scotland worth 300 million pounds which could start in the next financial year. There was no green light today and efforts to build economic recovery have not been given the boost we called for."
Scottish Labour leader Johann Lamont also viewed the Budget to be unfair.
She said: "Gone is the talk of 'we are all in this together'. This is a Budget riddled with unfairness which reflects the failings of George Osborne's policies. He is putting millionaires ahead of the millions and his plan isn't working.
"Scots will be furious to see a gang of cabinet millionaires giving tax cuts to millionaires, but taking tax credits away from ordinary families earning just £17,000 and taxing pensioners more.
"This is the wrong approach from the wrong government with the wrong values."
Barrels of oil
Reacting to the oil sector news, Derek Leith, from Ernst and Young in Aberdeen, said: "Today's announcement promises to encourage significant investment in the North Sea and was badly needed after last year's shock increase in the oil and gas tax rate.
"The Budget demonstrates government acceptance that establishing a stable tax environment in the basin will prolong the life of existing infrastructure, deliver millions of more barrels of oil equivalent and boost the Treasury's coffers via increased tax take."
Decom North Sea (DNS), which represents the North Sea's oil and gas decommissioning industry, said the changes would lead to new jobs and investment in new equipment.
DNS Chief Executive Brian Nixon said: "We believe the Budget will lead to operators being able to move forward with their decommissioning plans, which will in turn help to reassure the hundreds of supply chain companies and encourage them to consider investment in new equipment or tooling or to attract new staff."
DNS said expenditure levels were forecast to rise steadily from a current level of about £500m to more than £1bn a year within the next two to three years, perhaps reaching as many as 10 decommissioning projects a year.
Personal allowance
In other news, the Scotland Office said that the Holyrood government would receive a further £20.3m inBarnett Formulaconsequentials.
Mr Osborne's third Budget statement also announced;
tax measures to support the video games industry, in which Dundee is one of the leaders.
Dundee, Irvine and Nigg, in Easter Ross were named as special cases for investment tax breaks
VAT on ski lifts cut to 5%
Corporation Tax cut by 2% to 24% - will fall to 22% by 2014
and the A82 is among the roads in line to see its mobile phone coverage upgraded
The Chief Secretary to the Treasury, Danny Alexander, said budget personal allowance changes would lift 73,000 people in Scotland out of the tax system and benefit 2.1 million working people north of the border.
The Scottish Chambers of Commerce said the Budget was a positive one for businesses in Scotland.
Chief executive Liz Cameron said: "We are very pleased that cuts in the headline rate of Corporation Tax have been accelerated and extended.
"Also welcome is some long awaited positive news for our video games and animation industries in the form of Corporation Tax reliefs and the confirmation that three of our new enterprise areas in Dundee, Irvine and Nigg will benefit from 100% capital allowances.
"Changes to the oil and gas fiscal regime may also produce material benefits in terms of decommissioning and for new developments west of Shetland."
However, general secretary of the STUC, Grahame Smith, said Mr Osborne had delivered a "millionaires Budget".
He added: "The Chancellor's justification for cutting the 50p tax rate to 45p is simply risible.
"To base the 'evidence' on one year's data which he himself acknowledges as incomplete is disgraceful.
"Raising the personal allowance is a transparently cynical gimmick aimed at pulling a façade of fairness over a shockingly unfair Budget.
"This measure does nothing for society's poorest who pay no income tax, benefits most those at the top of the income distribution and fails to stimulate the economy."