Cash payment ban to tackle scrap metal thefts in Scotland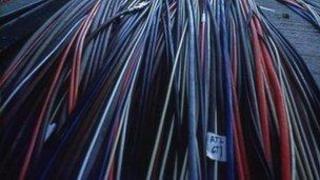 Cash payments for scrap metal are to be outlawed in measures proposed by the Scottish government to tackle the growing problem of metal theft.
Justice Secretary Kenny MacAskill made the announcement following an escalation of thefts in cable and metal from the nation's infrastructure.
The cost to the UK economy has been estimated to be as high as £770m by police chiefs.
The crime particularly affects the rail industry and utility companies.
Theft of important sculptures and memorials has also increased dramatically due to the rise in the value of metal.
The crime impacts on communities across the country, according to Mr MacAskill.
Dedicated team
The measures were outlined following the conclusion of the Scottish government's consultation to improve standards in the industry, which is likely to lead to the expansion of the metal dealers' licensing scheme.
The results of the consultation will be published shortly.
The proposals coincide with the announcement that British Transport Police (BTP) will establish a dedicated team of officers based in the east of the country to target cable and metal thieves as well as unscrupulous scrap metal dealers.
Mr MacAskill, who joined BTP during three days of multi-agency activity to target thieves, said: "The Scottish government takes metal theft extremely seriously and we are tacking tough action to tackle it.
"This is not a victimless crime, the impact is enormous - businesses face repair bills of tens of thousands of pounds, communities lose essential services and there are huge hidden costs to the economy due to delays to major transport routes and business services.
"Thieves may make only a relatively small amount of money, such as £50, from stolen metal and that's why removing the attraction of easy 'ready cash' payments is one way to help stop this scourge. These proposals make sense and we are looking at ways to bring them into force in Scotland."
Ch Supt Ellie Bird, chairman of the Association of Chief Police Officers in Scotland (Acpos) metal theft group, said: "The establishment of this team of officers and ensuring organisations training today have the capability to work together across Scotland enables us to better protect our infrastructure and minimise the disruption to our communities.
"What may appear to some as insignificant has the potential to disrupt businesses, delay major transport routes and pose a real risk to the most vulnerable."
Similar measures were proposed for England and Wales by the home secretary Teresa May in January.