Labour proposes caffeine limit for alcoholic drinks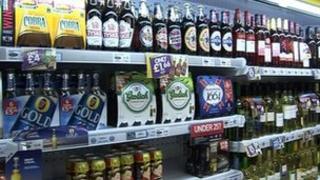 Labour has launched its alternative to the Scottish government's plan for minimum alcohol pricing.
In what it described as a "comprehensive package", Labour has proposed measures which include a limit on caffeine in alcoholic drinks.
Labour is the only party at Holyrood not to support minimum pricing.
The Scottish government has said it accepts that minimum pricing is not a "magic bullet" but is an important part of its strategy.
A consultation called Shifting the Culture will accompanyLabour's billof 14 measures, including public health and criminal justice policy.
Labour MSP Dr Richard Simpson, a former GP and a Labour public health spokesman, said: "This is a complex problem that requires complex solutions.
"That is why Scottish Labour are launching not just one idea - but a comprehensive package of measures that we believe will help crack the culture of alcohol in Scotland."
He said the combination of caffeine and alcohol was a "toxic mix" which could increase the likelihood of violence.
An earlier proposal by Labour for a cap of 150mg of caffeine per litre was rejected in a vote in parliament in November 2010.
The bill put forward by Labour also includes a "bottle tagging" scheme which would allow alcohol containers to be traced back to their source.
MSPs are to vote on the first stage of the Scottish government's Alcohol (Minimum Pricing) Bill on Wednesday.
The Scottish government said it wanted consensus on public-health policies.
A spokesman said: "We are quite clear there is no single solution to tackling these problems.
"Minimum pricing is not a silver bullet, and we have never claimed otherwise, but it will be an important part of a comprehensive alcohol misuse strategy - indeed, our alcohol framework lists 41 separate actions."