John Swinney says economy at heart of independence vote debate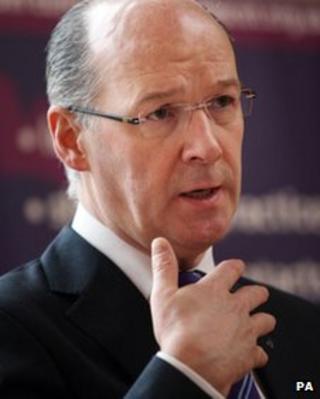 Scotland's Finance secretary John Swinney believes that the economic future of the country was "at the heart" of the debate on independence.
He told the SNP conference that there was now no question on whether Scotland could afford to be independent.
Mr Swinney said "the answer was is and the case is closed".
Hundreds of delegates to the Glasgow gathering heard the minister say that Scotland "pays more to the UK than we get in return".
In his speech he said: "The question our opponents have to answer is - can we afford the consequences of remaining part of the UK?"
Mr Swinney added that an independent Scotland would not only stand on "her own two feet and survive" but that "the economy can and will thrive".
He said the country was already "holding our own" against "the backdrop of global economic problems and UK mismanagement".
Mr Swinney went on: "We must persuade Scotland of the strength of our country's future and we need to do that now because for year after year our country has been told that we can't afford to be independent."
The politician pointed to last week's Government Expenditure and Revenue in Scotland figures, which the Scottish government said showed Scotland in a stronger financial position compared with the whole of the UK, taking North Sea revenues into account.
He said: "Scotland contributed 9.6% of UK taxes but we received only 9.3% of UK spending in return.
"With only 8.4% of the UK population we paid more than our share and got less back.
"Two years ago in 2009-10 Scotland paid in 9.4% of UK taxes but again only 9.3% came back. Even when North Sea revenues fell by 50% Scotland paid in more money to the UK Treasury than came back.
"Last year we had a £2.6bn advantage over the UK. An advantage worth £510 for every man, woman and child in Scotland.
"That's the real story of Scotland's finances - Scotland pays more to the UK than we get in return."