Sturgeon makes Glasgow City Council election push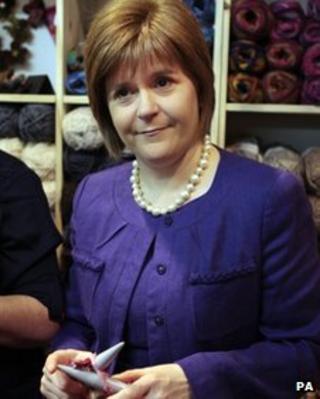 Scottish Deputy First Minister Nicola Sturgeon has told the SNP conference that her party can seize control of Scotland's biggest local authority.
The nationalists have set the key target of winning control of Glasgow City Council, which has been under Labour control for a generation.
Ms Sturgeon's comments came ahead of the local elections, on 3 May.
Labour has said it intends to fight hard to stay in control of the authority.
The SNP has used recent dissent among the city council's Labour group, related to the de-selection of several members, to claim its opponents are in "meltdown".
Ms Sturgeon, the MSP for Glasgow Southside, reminded delegates in Glasgow that the SNP had boosted its MSP complement in the city to seven at the last Holyrood election.
She said: "We are not like Labour, we take nothing for granted, we will work hard for every vote.
"The people who will decide the election here in Glasgow and in every part of Scotland are the voters.
"But we face here a Labour Party that is crumbling before our eyes, a Labour Party that is discredited, that is losing councillors hand over fist.
"We are working hard in Glasgow and we are working hard right across our country.
"We are fighting hard to win the local elections in every single part of Scotland."
Glasgow City Council's SNP group leader Allison Hunter told the conference that the party's soon-to-be completed manifesto for the city would contain "common-sense proposals".
She added: "I am not going to make any false promises about what an SNP administration can achieve.
"We don't have a magic wand that can magic away all Glasgow's problems with one stroke, but I promise you this: there is absolutely no chance of an SNP administration becoming complacent and comfortable while these problems continue to exist."