Scottish independence: D-day for UK government's referendum consultation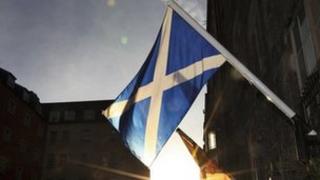 The UK government's public consultation into a referendum on independence for Scotland is coming to an end.
Friday is the final day for submissions to the eight-week consultation.
A Scotland Office spokesman said the responses would be looked at next week and a summary of them would be made public in the coming weeks.
Scottish Secretary Michael Moore said the consultation's aim was to hear from "all the people within Scotland" and those "outwith Scotland" too.
When he launched the coalition's appeal for views at the beginning of January, Mr Moore said he wanted to hear:
what people thought the referendum date should be
what question should be asked
who should organise the vote
and who would be eligible to take part in it
The Scottish government is also holding a public consultation into the issue. Individuals and organisations cansubmit their opinionsuntil Friday 11 May.