Scottish independence: STUC backs SNP referendum terms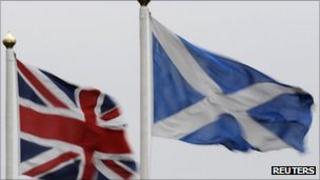 The STUC has backed the Scottish government's call to let 16 and 17-year-olds vote in the independence referendum.
But the organisation said there were "practical difficulties" in lowering the voting age from 18.
The trades union congress also says there are advantages to the SNP's preferred timescale on holding the vote in autumn 2014.
The STUCwas responding to the UK government referendum consultation.
The Electoral Commission watchdog has said current UK-wide rules on voter registration mean the vast majority of 16-year-olds would not be able to vote in the poll.
UK ministers are in talks with the Scottish government on devolving powers, which they say are needed to make the referendum legally watertight, as constitutional issues fall under the responsibility of Westminster.
The UK government has called on the SNP to hold the poll "sooner rather than later".
STUC General Secretary Grahame Smith, said: "Our response recognises the enormous value of clarifying through legislation the right of the Scottish government to legislate for an independence referendum."
He said: "STUC does not oppose a 2014 referendum and sees some advantages to this timescale which would allow for the resolution of all matters of process, for ensuring the proper legal basis for the referendum is clearly established, and for ensuring that the people of Scotland are able to engage in the widest possible debate on the constitutional future of our country.
"Whilst recognising practical difficulties with respect to extending the voting age to include 16 and 17 year olds, STUC supports in principle the view that 16 and 17-year-olds should be entitled to vote."
The congress also said it would be "inappropriate" to rule out another question on the referendum ballot paper, asking voters if they backed more powers for Holyrood, short of independence.