Scottish Tories drop opposition to minimum alcohol pricing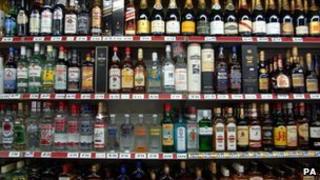 The Scottish Conservative Party has dropped its opposition to minimum unit pricing for alcohol.
Tory leader Ruth Davidson confirmed that her party would now support the Scottish government plans.
She said that in return for Tory support, the SNP administration would scrap the legislation after five years if it had been proved not to work.
TheAlcohol Billcould become law before the summer, although ministers have yet to set a minimum price.
The bill, which replaces measures thrown out by opposition parties in 2010, is almost certain to be passed, after the SNP won an overall majority at Holyrood last year.
The Scottish government wants to see a minimum unit price for alcohol set in a bid to tackle high rates of alcohol abuse.
The move is designed to reduce the availability of strong cut-price alcohol.
The Scottish government has estimated that the country's alcohol problems cost £3.56bn each year - or £900 for every adult.
The Tories had previously suggested that a blanket minimum pricing policy would not work.
The Lib Dems said the minimum price move was a "step in the right direction", but Labour has been opposed, saying minimum pricing was not the answer.
In a letter to Health Secretary Nicola Sturgeon, Ms Davidson said that her party accepted that the proposed minimum pricing legislation would "command greater authority if given the widest political support".
However, before giving backing to the bill, the Tory leader said two key steps needed to be taken. They included;
the need to introduce a "sunset clause" which would result in the legislation being scrapped it it had been proved not to work
the need to clarify at EU level the legality of the pricing change.
Scotland's Health Secretary Nicola Sturgeon said she welcomed the Tories new-found support for the bill.
In a letter to Ms Davidson, the SNP minister said: "It is right and proper for the parliament to have the opportunity to review the impact of minimum pricing after it has been in place for five years. I would be minded, therefore, to support your proposed sunset clause amendments."
She added that she remained "firmly of the view" that the bill was capable of complying with EU law.
Ms Davidson said: "Support for alcohol minimum pricing represents a major policy shift for the Scottish Conservatives.
"It follows my commitment as leader to undertake a widespread review of policy and reflects our strategy of seeking to improve parliamentary bills in the face of an SNP majority at Holyrood.
"I am delighted that we have managed to secure two major concessions which will reassure the retail industry following productive negotiations with the health secretary."