Scottish police officer numbers continue to climb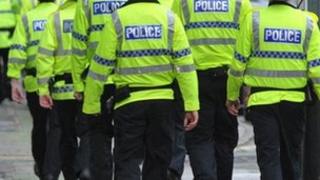 The number of police officers in Scotland has continued to rise.
Scottish government figures showed that at the end of December there were an additional 78 officers, compared with three months earlier.
ThePolice Officer Quarterly Strength Statisticssaid the country now had a total of 17,343 police officers.
Justice Secretary Kenny MacAskill said the rise showed the SNP government was exceeding its pledge to have an extra 1,000 police officers.
He said there had been an increase of more than 1,100 officers since March 2007.
Mr MacAskill said: "Our officers are doing an excellent job, fewer Scots are now likely to become victims of crime and reoffending rates are at an 11-year low.
"The risk of crime is lower in Scotland than in England and Wales. South of the border there is now the lowest number of officers since 2002 and an estimated 16,000 police are likely to lose their jobs due to UK government funding cuts.
"We will not let this happen here. Despite the unprecedented cuts to Scotland's budget from Westminster we will continue to protect policing."
Spending constraints
Strathclyde Police remained the biggest of Scotland's eight forces, with 8,411 officers - close to record strength.
It resumed recruitment in August 2011 after a freeze caused by spending constraints.
Two other forces, Central Scotland (875) and Tayside (1,236), equalled their previous highest strength levels.
But Northern Constabulary (768) had its lowest number of officers since December, 2008.
Elsewhere, there were 511 officers in Dumfries and Galloway, 1,468 in Grampian and 2,970 in Lothian and Borders.
The Scottish Liberal Democrats said although the number of police officers was increasing, civilian staff were continuing to lose their jobs.
Justice Spokesperson Alison McInnes MSP said: "This worrying decline means the vital support that frontline officers get from civilian staff is threatened and more and more police time is spent in back offices and not in communities.
"The SNP's plans to centralise police control and remove local accountability will only serve to accelerate this. I urge the Cabinet Secretary to rethink his police power grab."
Scotland's regional police forces are due to be merged into the Police Service of Scotland in April, 2013.
Mr MacAskill said the government's plans for the new service would protect frontline policing.