Scottish independence: May start for 'yes' campaign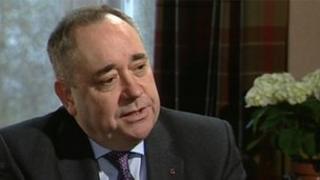 A "yes" campaign for Scottish independence will start soon after the Scottish government's consultation and May local elections, Alex Salmond says.
The first minister told the BBC's Sunday Politics that the timing was because his Scottish National Party (SNP) was "so confident" of winning.
He also said if an independent Scotland used sterling, "there would have to be a fiscal stability pact" with the UK.
The SNP government plans to hold an independence referendum in autumn 2014.
"So confident are we about winning the referendum, that shortly after the local elections in Scotland in May and the final position on the Scottish government's consultation - which I think is 11 May - then the yes campaign will be launched," Mr Salmond told Sunday Politics presenter Andrew Neil.
The UK government is also conducting a consultation on independence, which closes on 9 March.
It says it wants to keep the United Kingdom together, but given the SNP's landslide election win last May, "will not stand in the way of a referendum on independence".
However, it believes that the Scottish Parliament does not have the legal authority to hold an independence referendum and it could be successfully challenged in the courts.
Mr Salmond told Sunday Politics that the "yes" campaign for independence would be broader than just the SNP.
"It will be a broad-based campaign with civic Scotland, with the job creators of Scotland, with the unions of Scotland, a variety of people coming together to annunciate the case for independence," he said.
"And that positive approach is going to contrast very markedly with our opponents who are united only in their negativity."
Mr Salmond said any fiscal stability pact with the UK would have to include limits on borrowing.
When asked by Andrew Neil whether remaining in a monetary union with the UK would limit Scottish room for manoeuvre, Mr Salmond responded: "Let's say your stability pact said over the long term your borrowing shouldn't exceed 3% of GDP... I would argue that's no more than the fiscal discipline a sensible country would have in any case."
Devo-max question
The SNP government has proposed the referendum question: "Do you agree that Scotland should be an independent country?"
Mr Salmond had said his preference is for a one-question referendum, but he is open minded about an additional question on more powers for Holyrood - often referred to as the devo-max question.
Some opposition MSPs in the Scottish Parliament have also backed a campaign for "devo plus".
Devo plus would put Holyrood in full control of income tax, corporation tax and most welfare spending. But - unlike the devo max alternative - it would leave pensions, VAT and national insurance in Westminster hands.
Prime Minister David Cameron told the Conservative Party's spring conference on Saturday that the United Kingdom was stronger together and he would not give up on keeping it united "without the fight of my life".
The leaders of Labour and the Liberal Democrats also attacked independence in speeches to their Scottish party conferences on Friday.
Nick Clegg said the SNP must come clean on its plans, while Ed Miliband argued the move would undermine work to build a fair society.
On the BBC's Andrew Marr programme earlier, Scottish Secretary Michael Moore said Liberal Democrats supported further powers for Scotland irrespective of the independence referendum result.
But he added that the terms of any further devolution would have to be based on discussion and consensus.
Mr Moore told the BBC's Andrew Marr programme: "As a Liberal Democrat yes I would (like to see more devolution of powers).
"We as a party have long argued that. But the thing is we do that by consensus. We need to work with others to get that consensus and then we deliver it."
Mr Moore said he did not think the choice of extra powers should be on the referendum ballot paper.
He said: "I think people want more powers - I absolutely agree with that and as a Liberal Democrat I want to see that over time.
"But quite separate to that I think most people want the central issue resolved, - are we staying in the United Kingdom or not? That requires a single question that resolves that issue decisively.
"Then we can resolve what those extra powers will look like. We don't need the referendum to give us permission to have the debate to deliver those new powers - that argument is already under way."
Andrew Neil's interview with Alex Salmond will be broadcast in Sunday Politics at 11:30 GMT on BBC One across the UK.