Bringing on the big beasts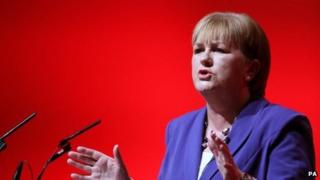 There were relatively few gags in Johann Lamont's conference speech - serious times, serious speech. But there were a couple - and one in particular generated raucous laughter from at least half the hall.
Ms Lamont said that people occasionally questioned why the top names in the party tended to drift to Westminster, rather than Holyrood. She was speaking, she said, about "the big beasts - or men as I call them".
Maybe it loses something in translation to the printed page but, delivered with a wry smirk, it worked. Then again, Ms Lamont is about to call in aid two of the biggest beasts of all, Alistair Darling and Gordon Brown.
This is for a campaign - which she will lead - to make the Labour case for preserving the Union. The former Chancellor will play a "leading role" and the former PM and Chancellor will "play his part too".
A Labour campaign, note. Not at this stage a cross-party campaign. However, Ms Lamont envisages that the "skills of the Labour campaign" would be offered on loan to a multi-party effort "when they are needed."
New talent
She announced two other initiatives: a search for new talent within the party and a Commission to determine Labour's position on whether further powers, beyond Calman, should be transferred to the Scottish Parliament.
In each case, the common thread is about reasserting Labour's stance and status within Scotland. The party, she argued, should get past the apologetic, breast-beating phase and begin again to engage with contemporary Scotland.
Already, within Labour, there is evidence of ideological and tactical divisions over the issue of more powers. These divisions are not - yet - fractious and they are not dishonourable: these are big, serious issues and it is right that they are addressed thoughtfully. But the divisions are real.
For example, the party is to look at the Devo Plus option, advanced by Reform Scotland, among various propositions. That form of added devolution involves transferring welfare benefits, income tax and corporation tax to Holyrood, effectively making the Scottish Parliament responsible for raising all the money it spends.
That scheme - or close variations thereof - has its advocates within Labour. Duncan McNeil MSP has agreed to join the cross-party scrutiny group which will examine the plan.
Corporation tax
Yet Johann Lamont (and Ed Miliband the day before) voiced powerful, ideological concerns about the transfer of corporation tax in particular. Their argument was that such a transfer might result in tax competition between Scotland and England with the consequence, they argued, that revenues would reduce and that there might be less scope for redistributing income to aid poorer families.
To be clear, for Reform Scotland, competition is seen as an advantage, driving the economy. It is not a by-product. Is it possible, at least intellectually, that enhanced devolution will end up being more attractive to the free-market Right in Scotland rather than the Left? I have long felt that the logic of Conservative attitudes to the economy would point in that direction, other things being equal (which, of course, they are not.)
So, movement on the constitution from Ms Lamont in a well-structured, thoughtful speech. But reservations too both from her and from Ed Miliband who impressed delegates with his cogent, walkabout speech, remote from autocue.
Me? I am off up the A9 to Inverness for the remainder of the Scottish Liberal Democrat conference, the two parties having brilliantly contrived to hold their annual bash on the same weekend.