Minister Moore tells SNP to quit stalling and hold referendum poll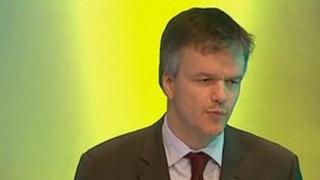 Scottish Secretary Michael Moore has said the SNP should "quit stalling" and bring forward the referendum on independence.
He told the Scottish Lib Dem conference in Inverness that just 500 days were needed to decide whether Scotland should remain in the UK.
First Minister Alex Salmond said he wanted the poll in autumn 2014.
Mr Moore said the vote could be held in autumn 2013 - about 500 days after the two official consultations had closed.
The Berwickshire, Roxburgh and Selkirk MP said: "What I find frustrating is the Nationalists' determination to go slow.
"If Mr Salmond has confidence in his plans - if he really believes that Scotland will vote to leave the UK family - why does he drag his heels?
"In January, the SNP said Scots should wait nearly three years to determine their future.
"But we don't need 1,000 days to decide this crucial question. We can get this done in the 500 days that follow the consultations. In 500 days you can plan the poll, pass the law and hold the ballot.
"That is enough time for the Scottish people to hear the arguments, consider the evidence and express their view."
Mr Moore also highlighted concern voiced by major Scottish-based businesses recently about "the impact of uncertainty and delay" surrounding the referendum.
He said: "SSE, the Weir Group, Scottish Engineering. Every one of them has made the point that the uncertainty caused by a stalled referendum will impact on business decisions.
"And business decisions impact on employment in Scotland. Delay today kills jobs tomorrow.
"So, I say to the SNP - Quit stalling. Let's work together, get the wheels in motion, and allow the people to decide their future in 500 days."
The UK government's consultation on Scotland's constitutional future closes on Friday, while the Scottish government's own consultation will run until May 11.
Mr Moore called on people to contribute to the consultation he announced in January.
He said: "To those who have not yet replied, I urge you to do so.
"That consultation outlines our starting point."