Glasgow city leader in election pledge to conference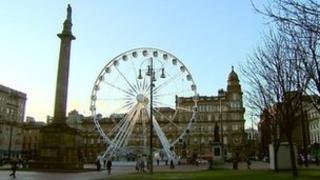 The Labour leader of Scotland's biggest council has made an impassioned plea to stay on in the job after May's local authority elections.
Gordon Matheson said the SNP had "another thing coming" if it thought he was going to hand over Glasgow Council.
The SNP is mounting a strong challenge to win the local authority, which has been under Labour control for a generation.
Mr Matheson also outlined a five-year plan for Glasgow's future.
Last month, Glasgow's Labour administration managed to get its budget passed by just two votes, after a number of resignations from within the party group.
The rebellion surrounded the de-selection of serving councillors, ahead of the local government poll on 3 May.
The SNP claimed the authority's Labour group was "in meltdown".
But Mr Matheson told the Scottish Labour conference in Dundee that his administration had rebuilt 100 schools, created 80,000 jobs and modernised social housing.
He said: "If our political opponents think for one second that I'm going to be the Labour leader who hands over control of Glasgow, then they've got another thing coming."
Glasgow was the only big city in the UK, Mr Matheson said, where unemployment went down last year.
Speaking during a debate on local government, Mr Matheson also said his five-year plan for Glasgow would create 1,000 jobs every year, and see 3,500 new homes for rent constructed.
Meanwhile, Jim McCabe, leader of North Lanarkshire Council - the only other local authority where Labour has an overall majority - called on party supporters to work hard on the forthcoming election.
He said: "I'm confident that North Lanarkshire will come back with a majority - but it won't happen if we sit in the house.
"It's probably the most difficult election we've had to fight.
"The only way to do anything about it is to go on the streets and talk up the achievements of Labour-controlled councils."