Falkirk MP Eric Joyce will not stand for re-election in 2015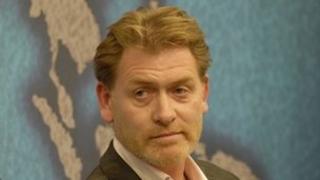 An MP suspended from the Labour Party has said he will not stand for re-election to parliament in 2015.
Falkirk's Eric Joyce said his decision to go followed an incident in a House of Commons bar last week.
The Labour whip was withdrawn from the 51-year-old after he was arrested and charged with three counts of assault.
Mr Joyce added that his decision had nothing to do with reports of a relationship with a teenage election campaigner, which he denies.
The politician, who has been MP for Falkirk since December 2000, served in the Royal Army Educational Corps before pursuing a career in politics.
On Thursday, Scottish Labour leader Johann Lamont called on the MP to stand down following newspaper allegations about his relationship with a 17-year-old girl.
Late night disturbance
Ms Lamont said she believed Mr Joyce may have abused his power, making him unfit to stand for the Labour Party.
Her call followed a meeting of Falkirk constituency officials on Sunday evening, who said they would expect Mr Joyce to do the "right thing" if the House of Commons assault allegations were proven.
They also backed the MP's "prompt suspension" from the Labour Party.
Mr Joyce, of Bo'ness, near Falkirk, was charged with assault last week. He was arrested on 22 February following a late night disturbance in a House of Commons bar.
The allegations relate to Conservative MP for Pudsey, Stuart Andrew, a second Tory MP and a Labour whip.