Lamont and Moore address independence in conference speeches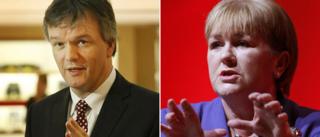 Keynote speeches at the Scottish Labour and Scottish Lib Dem conferences have addressed the issue of independence.
Labour's Johann Lamont said there would be a "collective leadership" for her party's no campaign.
She wanted active roles for the former chancellor Alistair Darling and former prime minister Gordon Brown.
In his conference speech, the Lib Dem's Michael Moore urged the SNP to hold the referendum in autumn 2013 and not on its preferred autumn 2014 date.
Ms Lamont told her party's gathering in Dundee that it was time to stop saying sorry for past mistakes and to start fighting for Scotland.
She said: "We know what happened last May - we looked tired and complacent and we got the kind of beating we deserved.
"But now, we need to start building the kind of Scottish Labour Party which Scotland deserves and which Scotland needs."
The Labour MSP said: "We lost an election. We did not lose our sense of right and wrong. We did not lose our values.
"And we will not lose the fight to make Scotland a fairer, more open, more just place to live in, because that is why we exist."
She said Scotland, under an SNP government, had seen jobless rates rise to nudge 250,000 and youth unemployment "out of control".
And she said ministers had allowed £790m of work on the new Forth road bridge to go to China, Poland and Spain, with only £20m of contracts for home-grown firms.
At the same time, Ms Lamont also said big Scottish firms, like power giant SSE and engineering firm Weir's, had raised concern that delay over the referendum was causing uncertainty.
She said: "Let me tell Alex Salmond one thing - putting Saltires round his fireplace is no proof that he is putting Scotland's interests first, and there is one thing we in this country are good at - spotting a conman when we see one."
Mr Moore also touched upon the concern raised by SSE and others in business.
He told his Scottish party conference in Inverness: "SSE, the Weir Group, Scottish Engineering. Every one of them has made the point that the uncertainty caused by a stalled referendum will impact on business decisions.
"And business decisions impact on employment in Scotland. Delay today kills jobs tomorrow.
"So, I say to the SNP - Quit stalling. Let's work together, get the wheels in motion, and allow the people to decide their future in 500 days."
Mr Moore said that just 500 days were needed to decide whether Scotland should remain in the UK.
First Minister Alex Salmond had said he wanted the poll in autumn 2014.
But Mr Moore insisted the vote could be held in autumn 2013 - about 500 days after the two official consultations had closed.
The second day of the Scottish Lib Dem conference also heard from energy and climate secretary Ed Davey.
Labour control
He said his "Green Deal" plan for business would be so radical it would be hated by some.
Mr Davey added he was "giving notice" to businesses and local authorities to get serious about saving energy and saving people money.
Scottish Labour's annual get-together heard from the leader of Glasgow City Council who made an impassioned plea to stay on in the job after May's local authority elections.
Labour councillor Gordon Matheson said the SNP had "another thing coming" if it thought he was going to hand over Glasgow Council.
The SNP is mounting a strong challenge to win the local authority, which has been under Labour control for a generation.
Mr Matheson also outlined a five-year plan for Glasgow's future.