Douglas Alexander 'open minded' on Holyrood powers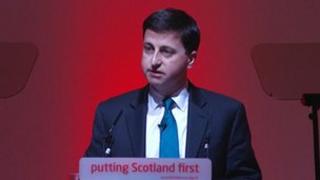 Shadow Foreign Secretary Douglas Alexander has said Labour should be "open minded" about increasing the Scottish Parliament's tax powers.
He told his party's Scottish conference it must be "both the defenders and developers of devolution".
With an independence referendum expected in 2014, Mr Alexander also launched a defence of the union.
He told delegates in Dundee there was nothing positive about "retreating from the world".
As well as the referendum, Mr Alexander's speech came as debate over increasing Holyrood's powers, known as "devo max" and "devo plus", has been intensifying.
The MP for Paisley and Renfrewshire South said: "True to our history and alive to contemporary currents, we must be open minded on how we can improve devolution's powers, including fiscal powers, but be resolute in our rejection of separation.
"Working with other parties, with local communities and with civic Scotland - as the authors of devolution, we must be both the defenders and developers of devolution."
Attacking the SNP, Mr Alexander said: "Let us tell the nationalists with a quiet confidence that they can bully, they can bluster and they can boast, but, on the issue of separation, they do not speak for Scotland.
"To the nationalists I say this - you can try and delay the Scottish people's choice - but you will not change the Scottish people's verdict."
From the Eurozone crisis to mass migration, interdependence - not independence - was the "hallmark of our age", said Mr Alexander.
He said: "Let us say confidently and clearly - there is nothing positive or progressive in retreating from the world."
The Scots MP said Britain had a permanent seat at the UN, Nato, the G20 and others, while a separate Scotland would not.
"And in the months ahead it will be up to Scottish Labour, to every person in this room, and every one of us in our party to make the case that Scotland stands taller on the world stage as part of Britain," he said.
"We are stronger together, and we'd be weaker apart."
Following a heavy Labour defeat in last year's Holyrood election, Mr Alexander said the party must work hard, ahead of May's council polls.
"Our communities need Labour councillors providing not just good value, but good values - defending services. Upholding fairness. Protecting the vulnerable," he said.
"Just as in the 80s, it now falls to Labour councillors to be the last line of defence for our communities.
"The last line of defence against a Tory government with policies tearing our society apart, and a nationalist government determined to tear our country apart."