Labour's Lewis Macdonald voices concern over single police force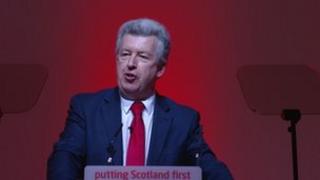 The Scottish government must listen to concerns over plans to create a single police force, the Scottish Labour conference has been told.
Justice spokesman Lewis Macdonald said the SNP administration must heed the concerns of the police and unions.
Plans are in the pipeline to have a single police force and single fire service by 1 April next year.
Mr Macdonald said the SNP should listen to worries over the centralisation of power and job cuts to the service.
He told the gathering in Dundee: "This week the new law on sectarianism comes into force. It is deeply flawed. On an issue where most of us really wanted the SNP Scottish government to get it right, they got it wrong. They failed to listen.
"The Police and Fire Bill will bring the biggest change in how these services are delivered for a generation.
"When it comes to creating a single national police service for the whole of Scotland, we cannot afford the SNP to make the same mistake again."
The government claims that its overhaul to the eight existing police forces would save and estimated £1.7bn over 15 years.
Mr Macdonald described the proposals as the "biggest change in how these services are delivered for a generation", adding that "this time they [SNP] have to listen".
The new single police force will be created as part of thePolice and Fire (Reform) Scotlandbill.
Justice Secretary Kenny MacAskill said the reform was the only way to make sure that "we don't lose the major improvements made to police and fire and rescue services in recent years".