Scottish Labour leader Johann Lamont urges MP Eric Joyce to go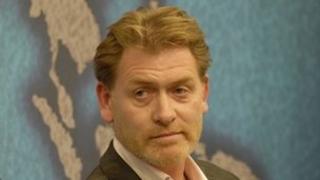 Scottish Labour leader Johann Lamont has called on Falkirk MP Eric Joyce to stand down.
It follows newspaper allegations about Mr Joyce's relationship with a 17-year-old girl.
Ms Lamont said she believed Mr Joyce may have abused his power, making him unfit to stand for the Labour Party.
Mr Joyce has already been suspended from the Labour party after being charged with assault following an incident in a House of Commons bar.
The 51-year-old faces three counts of common assault after the late night disturbance last week.
The politician, from Bo'ness, near Falkirk, was bailed following the incident and will appear at West London Magistrates' Court on 7 March.
Ms Lamont said of the latest allegations: "If these reports are true, this is a man who has abused his position of power and authority.
"I'm disgusted, regardless of any other issues. I think this makes Eric Joyce unfit to stand for the Labour Party."
Mr Joyce has denied the Daily Record allegations he had a relationship with a teenage girl.
A Scottish Labour Party spokesman explained: "Eric Joyce was immediately suspended from the Labour Party when serious criminal charges were brought against him last week, so processes have already started.
"That case is now sub-judice but Eric Joyce remains suspended. These separate revelations are highly disturbing and Johann has made her position very clear."
Mr Joyce, MP for Falkirk since December 2000, served in the Royal Army Educational Corps before pursuing a career in politics.