Football religious hatred law takes effect in Scotland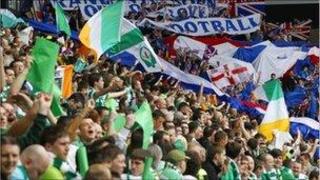 A new law designed to reduce religious hatred associated with football has come into force in Scotland.
The Offensive Behaviour at Football and Threatening Communications (Scotland) Act 2012 has created two new offences.
One covers behaviour in and around football matches, the other relates to messages sent by post or by electronic means.
Anyone convicted under the new legislation could face a prison sentence of up to five years.
Minister for Community Safety and Legal Affairs Roseanna Cunningham said: "This legislation will have no impact on the banter and passionate support that goes hand in hand with supporting football teams.
"It is not about discouraging the competition and rivalry that is the lifeblood of football, it is about eradicating sectarianism and other unacceptable expressions of hate from our national game.
"We listened to Scotland's police and prosecutors when they told us they needed greater powers to take a hard line on sectarianism at football and threats of harm being posted on the internet.
"These new laws make it very clear that religious hatred will no longer be tolerated and there should be no mistake that those who promote sectarianism will feel the full force of the law."
'Railroaded' claim
The Scottish parliament passed the legislation in December 2011.
At the time, Labour, the Tories, Lib Dems and the Scottish Greens said the bill was "railroaded" through by the SNP.
All four opposition parties at Holyrood and independent MSP Margo MacDonald released a joint statement.
It said: "Members of all political parties are determined to wipe the blight of sectarianism from Scottish society.
"It is of real regret that the first piece of legislation passed by this new parliament has been railroaded through by the SNP.
"The SNP has used its majority to force through bad law that risks doing more harm than good. It sets a worrying precedent for this parliament."