Scottish independence: Devo Plus gains support from three MSPs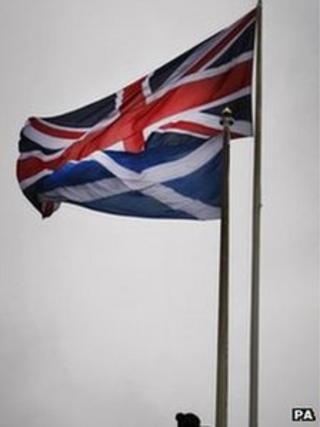 MSPs from the three main opposition parties in the Scottish Parliament are backing a new campaign for increased Holyrood powers.
"Devo plus" would put Holyrood in full control of income tax, corporation tax and most welfare spending.
Unlike the "devo-max" alternative, it would leave pensions, VAT and national insurance in Westminster hands.
Devo Plus has the personal support of three MSPs from Labour, the Tories and Lib Dems.
The Scottish government, which supports independence and wants to hold a referendum on the issue in autumn 2014, sent a special adviser to the launch of the new campaign.
Former Liberal Democrat leader Tavish Scott, the Conservative MSP and former presiding officer Alex Fergusson and Labour's Duncan McNeil think devo plus could be a credible alternative to independence, if that option was rejected in the referendum.
The option is being pushed by Edinburgh-based think tank Reform Scotland and former Lib Dem MSP Jeremy Purvis.
Reform Scotland chairman, Ben Thomson, said: "I have found it difficult to understand why the one option in this constitutional debate that seems to command most public support in the polls is not being championed by any significant organisation as the best solution for Scotland as well as for the rest of the United Kingdom.
"Therefore, the formation of a group made up of members from different political parties and the wider community to develop and promote devo plus is an important move to address the imbalance between what has so far been mostly a political battle between independence and the status quo."
Under devo plus, Holyrood would gain new responsibility for welfare benefits except pensions, funding all its own spending through full control of income and corporation tax.
It would also receive a "geographical" share of oil revenues - tax receipts from oil and gas in Scottish territorial waters.
VAT and National Insurance would remain in Westminster hands, but Scotland would control its share of UK borrowing.
The devo plus campaign said it was a cross-party and non-party group which wanted a "new and sustainable financial relationship between the Scottish Parliament and Westminster".
Mr Purvis said: "Our objective is to see the creation of a system in which the Scottish Parliament, as far as possible, raises the money that it spends.
"That is the principle that underpins devo plus and it is the principle on which this group is based - Scotland cannot fulfil its potential while it is dependent on Westminster to raise taxes for it."
The debate on a possible middle-ground option, short of independence, is beginning to flourish with so-called civic Scotland - including the voluntary sector, churches, trade unions and the business community - offering its views.
The Scottish government has said it wants a one-question ballot paper in the independence referendum, but is open to backing a second question on further powers to Scotland.
The Westminster government said it recognised the majority SNP administration's right to hold a referendum, but prefers a straight "yes or no" question to independence.
Tory MSP Mr Fergusson said: "It is important that we address the accountability gap between what Holyrood spends and what it raises.
"Budget debates in the (Scottish) Parliament have a major deficiency because they are focussed solely on how public money is spent and not from where it is raised."
Lib Dem MSP Mr Scott added: "The devo plus principle of rejecting independence and improving on the status quo is exactly the right way forward to address Scotland's challenges.
"It is a very positive contribution to making Scotland stronger within the UK and I look forward to taking part in the group's discussions."
And Labour MSP Mr McNeil, convener of the Scottish Parliament's health committee, said: "There are important decisions to be made about the future of Scotland and the devo plus group will apply solid thinking and genuine rigour that places it ahead of the independence argument.
"I look forward to taking part in these ongoing discussions."
A spokesman for Scottish first minister Alex Salmond said: "Scotland is in a process of independence, and we welcome this contribution to the debate on the need for substantial economic, financial and social powers for the Scottish Parliament.
"The devo plus launch reinforces the need for clarity, in place of the current confusion, about what 'No' in the referendum from the Tories and other anti-independence parties actually means.
"This information needs to be in the public domain well before the referendum."