Falkirk Labour Party debates future of MP Eric Joyce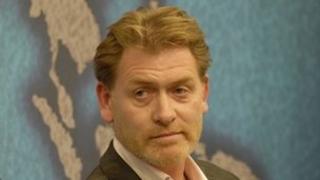 Labour Party members in Falkirk have been discussing the future of MP Eric Joyce, who faces assault charges.
A statement issued by constituency officials said it welcomed the "prompt suspension" from the party of Mr Joyce.
The 51-year-old was charged with three counts of common assault after a disturbance at a House of Commons bar.
Chairman of Falkirk constituency party, Martin Murray, said if the allegations were proven the party expected the MP to do the "right thing".
Mr Joyce's future was one of several matters on the agenda of the two-hour meeting, which took place on Sunday evening.
In a statement read to the media which had gathered after the meeting, Mr Murray said: "It is a matter of grave disappointment that Eric Joyce MP has been involved in an alleged incident.
"Falkirk CLP do not condone such alleged conduct and welcome the prompt suspension by the Labour Party of Mr Joyce.
"Falkirk expects and deserves the best representation and highest standards of behaviour from its elected representatives. If the recent alleged events are proven then we expect Mr Joyce to do the right thing."
Former Army major Mr Joyce was elected to his Falkirk seat in a by-election in December 2000, and has served as a parliamentary private secretary (PPS) to a number of government ministers since 2003.
He was PPS to the then-defence secretary Bob Ainsworth until 2009, and prior to that had been a parliamentary aide to John Hutton, Mike O'Brien and Margaret Hodge.
Mr Joyce, of Bo'ness, near Falkirk, was bailed following the incident last Wednesday evening and will appear at West London Magistrates' Court on 7 March.