Health Secretary Sturgeon offers support to breast implant women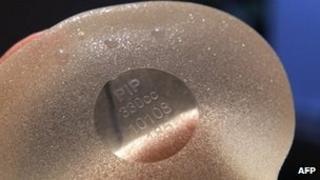 Scotland's health secretary said women with breast implants which have been linked to a health scare can turn to the NHS for help.
Nicola Sturgeon gave the assurance to a delegation who have the French-made Poly Implant Prothese (PIP) implants.
The women are worried that the private firms which carried out the operations would not remove the non-medical grade silicone breasts.
At least 1,300 women in Scotland have the PIP implants.
They have caused an international health scare after it was found that they could be toxic if they ruptured.
The product had not been used by the National Health Service in Scotland.
The women affected met Ms Sturgeon at the Scottish Parliament where they asked her to hold a public inquiry into the issues.
She told them: "I can confirm that Scotland is closely involved in two UK-wide inquiries that are already under way and PIP Scotland can be assured that Scottish women's views will be taken fully into account.
"The first of these reviews, led by Lord Howe, will report by the end of March and we will consider the findings and put in place any recommendations for Scotland.
"As part of this work, and at that time, we will also give full consideration to the request for a public inquiry.
"It is important to note though, that given the reserved nature of these matters, a Scottish-only public inquiry would be unlikely to deliver the answers that women want."
Following the meeting, PIP implant campaign spokeswoman Trisha Devine said: "We haven't quite got there yet".
She added: "We still have more questions but today has been helpful and we have made progress."
It was initially believed that up to 4,000 women in Scotland could be affected, but it is now thought that figure could be about 1,300.
Worried patients can have their implants removed by the NHS, but not replaced, if their private clinics refused or had gone out of business.
The PIP product was banned in 2010 when it emerged that industrial grade silicone was being used. Implants should be made from medical grade material, which has passed safety tests for use in a human body.
No increased risk of toxicity had been reported, but the implants were at greater risk of rupturing.
An advice line is available for women in Scotland who are worried about their implants or would like advice. They can call NHS Inform on 0800 224 488 between 8:00 and 22:00 seven days a week.