Scottish independence: Salmond-Cameron meeting reports played down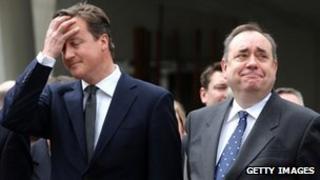 Scotland's first minister has sought to play down claims that he is meeting David Cameron in the next few days for talks on the independence referendum.
The prime minister was to meet Alex Salmond in Scotland next week, it was reported, but the SNP leader said a date had yet to be confirmed.
Meanwhile, Mr Salmond suggested the coalition was split on the referendum.
Scottish Secretary Michael Moore has reportedly offered Scots more powers if they vote "No".
The first minister is meeting Mr Moore on Monday, as a precursor to face-to-face talks with Mr Cameron at a future date.
The two sides have become caught up in a row over the arrangements for the referendum, proposed for autumn 2014.
The UK government says new constitutional powers must be devolved to Holyrood to make the vote legal, while Scottish ministers have accused the coalition of trying to dictate the terms of the ballot.
The Times has suggested the UK government would agree to greater financial powers for Holyrood, if voters in Scotland elected to stay in the UK.
Mr Moore told the newspaper: "The central point is to let Scotland decide whether it's part of the United Kingdom or not. I'm confident it will say 'we are'."
"Then we can work through the detail of what the next stages of devolution will be."
A spokesman for Mr Salmond, said: "While the date for the first minister to meet the prime minister to discuss Scotland's referendum is to be confirmed, we look forward to it taking place in early course, once the first minister has met the secretary of state for Scotland on Monday."
The spokesman added: "It is clear there is growing consensus that the proposed timetable for Scotland's referendum is entirely reasonable, however only this weekend it is obvious there are divergent views within the Westminster coalition on their position in regard to more powers - with the prime minister refusing to offer any further powers and the secretary of state for Scotland saying Scotland could get greater financial powers.
"If that is a genuine offer it should be articulated clearly to the people of Scotland at this stage."