Scottish independence: Campaign reports 'fantastic' referendum response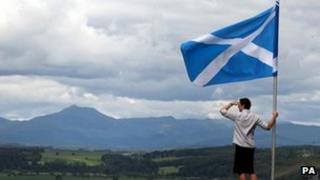 A campaign which was formed to gather opinion about Scotland's future said it has had a "fantastic response".
The Future of Scotland campaign was launched last week by a coalition of churches, voluntary groups, businesses, trade unions and other organisations.
It wants to explore the possibility of a middle-ground option, which is short of independence.
The SNP government has announced its intention to hold a referendum on independence in autumn 2014.
It has proposed the ballot paper question, which would read: "Do you agree that Scotland should be an independent country?"
First Minister Alex Salmond had said his preference is for a one-question referendum, but he was open minded over an additional question on more powers for Holyrood - often referred to as the devo-max question.
The Scottish government is currently running a public consultation into the independence issue.
The UK government, which had said it wanted the poll sooner rather than later, is also conducting a consultation.
The Future of Scotland campaign said organisations such as the Electoral Reform Society, Faith in Community Scotland, Age Scotland and groups representing ethnic minorities and young people were keen to contribute their opinions.
It also said others had signed up simply to be kept informed about the campaign.
Campaign spokeswoman Alison Elliot said: "We have struck a chord with many people across Scotland who want to contribute to a debate about the referendum that's rooted in the issues and challenges they face.
"The fantastic response generated so far proves that there is a strong appetite to engage people in all parts of Scotland in this important discussion."
Future of Scotland is holding a conference in Glasgow on 1 March, aiming to bring together several hundred people for a debate.
Meanwhile, youth organisations have met representatives of the campaign to discuss how to engage younger people.