EC deny backing for Scotland's minimum alcohol price plan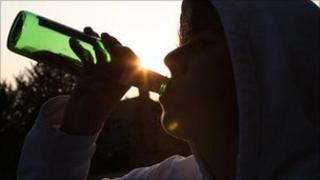 A Scottish government claim that it had EU backing for plans to introduce minimum unit pricing for alcohol has been denied by the European Commission.
A spokesman for Health Secretary Nicola Sturgeon said the commission had given her a "very clear message" the proposal would be legal.
But the commission said that it did not yet know about the legalities.
The Alcohol Bill could become law before the summer, although ministers have yet to set a minimum price.
The bill, which replaces measures thrown out by opposition parties in 2010, is almost certain to be passed, after the SNP won an overall majority at Holyrood.
The previous SNP administration had said the minimum price would be set at 45p, targeting cut-price booze such as own brand vodka, strong cider and lagers.
Some opponents had claimed the pricing measure would be illegal within the EU because it contravened free trade legislation.
Ms Sturgeon was in Brussels earlier this week to discuss the plans with a number of officials.
Among the people she met was John Dalli, European Commissioner for Health and Consumer Policy.
Following the get-together, Ms Sturgeon's spokesman said: "The very clear message coming from the commission was confirmation that minimum pricing for alcohol is entirely compatible in principle with EU law."
He added: "The discussions were very positive and basically confirmed what we always said all the way along.
"We've always asserted minimum pricing in principle is entirely compatible with EU law, provided that certain key tests are met, which is why we're working very hard to ensure that proposals, when they are brought forward are absolutely robust and entirely compatible with EU law."
However, Mr Dalli's spokesman, Frederic Vincent, issued a note of caution.
He said: "We will have to check if Scotland's proposals are compatible with EU law. At this stage we don't know."
Following Mr Vincent's statement, the Scottish government reiterated that the Brussels discussion had reinforced "what has always been our view, which is that - in principle - a minimum pricing policy is compatible with EU law".
The Scottish government wants to see a minimum unit price for alcohol set in a bid to tackle high rates of alcohol abuse.
The move is designed to reduce the availability of strong cut-price alcohol.
The Scottish government has estimated that the country's alcohol problems cost £3.56bn each year - or £900 for every adult.
The Lib Dems said the minimum price move was a "step in the right direction", but Labour is opposed, saying minimum pricing is not the answer.
Labour's Scottish health spokeswoman Jackie Baillie accused the SNP of "spinning out of control".
She said: "Perhaps if the SNP spent more time on the substance than the spin they might come up with policy that was actually competent - not half-baked policies that are wide open to legal challenge."
"If Nicola Sturgeon is so confident of her case then why does she not come clean and finally publish the legal advice, her proposed minimum price and formally notify the EU?
"The inconvenient truth is that the SNP's bill will not seriously tackle problem drinking and will hand a multi-million pound windfall to big retailers and not extra penny for our police or NHS."