MSP's high hedge bill takes step forward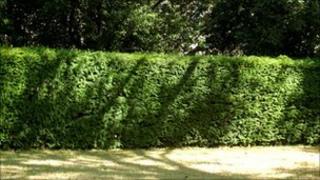 New laws to tackle the thorny issue of neighbourly disputes over high hedges are moving forward.
SNP MSP Mark McDonald has been given the green light to begin to draft a backbench bill on the issue.
Disputes over the size of Leylandii and other shrubs have often led to confrontation between residents, which has been dubbed "hedge rage".
The bill's measures include improvements to mediation to resolve disputes.
The Scottish Parliament's local government committee has said no further consultation is needed on the proposals, meaning Mr McDonald can move his plans forward.
He now has to gain the support of at least 18 MSPs representing at least half of Holyrood's political parties to take the bill forward for full consideration in parliament.
Mr McDonald said: "The best way to achieve an effective, practical and sustainable resolution to the long-standing problem is by providing local authorities with powers of last resort.
"It may not sound like the most exciting piece of legislation but I know that for many people, this is an issue that blights their lives and damages neighbourhood relationships."
The MSP said a similar legislative route had been taken in England, Wales, the Isle of Man and Northern Ireland.