Scottish independence: Orkney and Shetland 'should have right' to stay in UK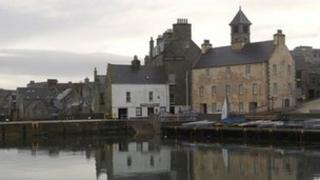 A former Conservative minister has said Orkney and Shetland should have the right to remain part of the UK if Scotland votes for independence.
The Earl of Caithness has tabled amendments to the Scotland Bill, which gives further powers to Holyrood.
He said a referendum vote favouring independence should not be binding on the Northern Isles, unless the majority of islanders voted "yes".
The Scotland Bill is due to be discussed in the Lords later this week.
The Tory peer's proposed changes to the bill are among a number of newly-published amendments.
Malcolm Sinclair, the 20th Earl of Caithness, said a "yes" vote in a Scottish referendum should be followed by a referendum held throughout the UK, a proposal he sets out in an insert to the bill that the peer has labelled subsection (2B).
In his amendment, he said: "A vote in a referendum held under subsection (2B) of this section which results in Scotland leaving the United Kingdom shall not be binding on the residents of the Orkney Islands or the Shetland Islands unless a majority of the residents of the Orkney Islands and the Shetland Islands who voted in such a referendum voted that Scotland should leave the United Kingdom."
The Earl of Caithness has also proposed that the North Atlantic islet of Rockall should remain part of the UK in the event of Scotland becoming independent.
The ownership of the islet has long been disputed with Iceland, Denmark, the Faroes and Ireland all with competing claims.
SNP MSP for Caithness, Sutherland and Ross, Rob Gibson, described the earl's amendment as a "bizarre contribution" to the independence debate.
On Wednesday, First Minister Alex Salmond will announce his consultation into the Scottish referendum which he said should be held in autumn 2014.
The Westminster government has already announced its consultation into the historic vote.