Alex Salmond to deliver annual Hugo Young lecture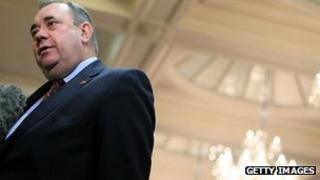 First Minister Alex Salmond is to argue England will benefit from an independent Scotland.
Giving the Hugo Young lecture in London, Mr Salmond will say Scotland can be a "beacon for progressive opinion south of the border".
He will say Scotland's current constitutional position means it cannot innovate as much as he would like.
The SNP leader will return to Scotland on Wednesday to make public his plans for a referendum on independence.
The lecture is in its eighth year and was set up in honour of Hugo Young - a Guardian columnist who died in 2003.
The 2010 lecture was made by Liberal Democrat leader Nick Clegg and in 2009 it was delivered by David Cameron.
Mr Salmond will use his speech to argue independence would give Scotland the tools, such as corporation tax and alcohol excise duty, which would help to promote economic recovery and improve people's lives.
He will also say an independent Scotland would be able to make full use of energy resources.
The first minister will say the Scottish government has pursued policies such as free university tuition, no prescription charges and free personal care for the elderly because they benefit "the common weal".
He will tell his audience a "secure, stable and inclusive" society provides the confidence needed for economic growth.
Mr Salmond will say that looking at the "chaos" of health reform in England he is thankful Scotland has its own say on health issues.
However, the looming welfare reforms show Scotland needs the powers to make its own policies, Mr Salmond will say.
The first minister will say: "An independent Scotland can be a beacon for progressive opinion south of the border and further afield - addressing challenges in ways which reflect the universal values of fairness - and are capable of being considered, adapted and implemented according to the specific circumstances and wishes within the other jurisdictions of these islands, and beyond."
Mr Salmond will say an independent Scotland could still work together with the rest of the UK in areas of common values and interests.
"After Scotland becomes independent, we will share more than a monarchy and a currency," he will say.
"We will share a social union. It just won't be the same as a restrictive state, which no longer serves the interests of either Scotland or England."
Government consultation
Scottish Labour leader Johann Lamont said: "Not content with his mission to 'free' Scotland from England, it appears Alex Salmond is now advising how to liberate the English people from themselves.
She said: "Rather than trying to set a progressive example for others, Alex Salmond could start by implementing some progressive ideas here that would deal with the rising level of child poverty and the 200 people a day losing their jobs.
"The future of the United Kingdom is about more than David Cameron versus Alex Salmond and conservatism versus nationalism."
Ms Lamont called for a "mature debate" about how and where power should be devolved and whether it is in Scotland's interests to stay in the union.
Scottish Liberal Democrat leader Willie Rennie said: "Mr Salmond resents the involvement of UK Ministers in Scotland but sees no irony in his involvement in the politics of the rest of the UK."
He added: "The first minister can't answer basic questions about the future of Scotland under independence such as the currency and armed forces. He couldn't even answer questions last week about his police reforms.
"It a damning indictment of the first minister that his idea of progressive policies includes giving Sir Fred Goodwin a £3,000 discount on his council tax."
Mr Salmond has already said he wants to hold the independence referendum vote in the autumn of 2014.
The Westminster government has accepted the SNP government has a democratic right to hold the referendum, but it would like to see it done "sooner rather than later".
Scottish Secretary Michael Moore has already launched a UK government consultation into the issues surrounding the poll.
The launch of the SNP's consultation will be followed by a meeting on Friday between Mr Salmond and Mr Moore.