Scottish independence: 'Expat' Scots give their views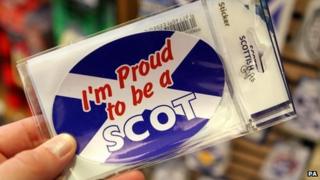 As the Scottish government prepares to publish its consultation document on an independence referendum, do Scots living south of the border welcome a break from the United Kingdom?
Chris Scullion, 28, from Coatbridge, games editor in London
Chris Scullion says he moved to London six years ago for his "dream job" and has become engaged in that time.
"My fiancee and I have decided that, once we get married and are ready to have children, we would like to move back to Scotland if the circumstances are right and we can sort out employment."
Living in London has made him "prouder to be a Scot", he says. "Political and economic arguments aside, I feel Scotland (and northern parts of England) have a character, charm and friendliness that is sorely lacking in London and I feel the presence of these regions is important to the overall mood of the nation in a time when spirits may be low."
He is strongly against independence but would not oppose a referendum, were it fairly presented to the Scottish public.
He says Scottish patriotism will be at a high in 2014, which is the 700th anniversary of the Battle of Bannockburn and the year Glasgow will host the Commonwealth Games. He feels the SNP's promise to hold the referendum then is "a deliberate attempt to sway the Scottish people's emotions".
Mr Scullion says he would be in favour of an additional question on devo max (significant new powers for Holyrood, short of independence) as long as it did not interfere with the main question. "So as long as the two questions were 'Yes/No to Independence' and 'if no, then yes/no to devo max' then I would be in favour," he says.
He says Scots living outside the UK for less than 18 months or those who had been living in a different part of Britain for less than 10 years should be eligible to vote in the referendum.
"I'm not in love with the idea of expat Scots who haven't lived in Scotland since the 1970s or 1980s making decisions on the future of a country they've been disconnected from for so long."
He says he struggles to see the benefits of independence and does not believe Scotland could survive on potential oil reserves alone.
"In my opinion there needs to be an independent investigation into exactly what would happen, and not just promises by the SNP that everything would be alright."
"At a time when the economy is so fragile that other, bigger countries are currently in financial turmoil, I think it would be madness for Scotland to suddenly take a huge risk and decide we can go it alone."
Dominic Wolsey, 22, from Aberdeen, studying politics in London
Dominic Wolsey believes the Scottish government has "a fairly undeniable mandate to hold a referendum".
"I think any attempts to block it would be undemocratic," he says. Mr Wolsey says he is in favour of a two-question referendum which would deal with the question of fiscal autonomy or devo max.
"I've always been quite pro-independence. But I think at the moment the majority of people in Scotland want devo max," he says.
"I think it's purely a political question and economic rather than something about Scottish identity and nationality." Mr Wolsey says Scottish voters tend to lean towards more social democratic governments but have ended up with a Conservative-led government controlling their finances.
Even if they all voted for the same party, he says, Scots would be "outvoted by our counterparts from other parts of the union".
He says a referendum would strengthen democracy "because it would bring our government closer to the people".
"I think for me personally I'm in favour of full independence but I realise in terms of a referendum the democratic thing would be two have two questions, one on devo max."
Mr Wolsey says the referendum should be open to anyone living in Scotland regardless of their nationality.
"If you don't live there and you haven't lived there for 10 years then it's none of your business - whether you consider yourself Scottish or not," he says.
"This Scottish identity thing is a flawed way of looking at the question - it should just boil down to civic responsibility."
Alex Alonzi, 25, from Edinburgh, project manager in Bristol
Alex Alonzi says the similar environment and culture of the two nations made moving from Edinburgh to Bristol easy.
"Part of the reason that I felt comfortable moving to England was because I didn't feel like I was moving to a different country," she says. "It was purely a case of just driving across the border."
"At the moment I feel like it's one big country. I've never felt restricted in my movements.
"I think I'd be quite sad if we all split up," she says. "You just feel like you're one big kingdom - you're all there together, your supporting each other... I just don't know what's going to happen at all politically. It just feels uncomfortable."
Ms Alonzi believes Scotland would do better to stay in Great Britain "purely because of strength in numbers".
But she says a referendum needs to be held so that the view of the Scottish population can inform politicians' arguments.
She says voters needed more information on what independence would mean but assumes that "they don't want to start looking into this in completely accurate detail until the Scottish referendum".
Ms Alonzi says a referendum would need to avoid leading questions but that "there are so many issues at the moment that I don't think a yes and no question would really give the overall opinion of the Scottish population".
Ms Alonzi says she would be concerned about the future economy of Scotland with questions remaining about currency and taxes. "At the moment they are all intricately linked with Westminster and the UK tax system."
She says as a Scot living in Britain she would expect to be able to vote because its outcome would affect her future but that it was different for those who had given up their nationality to live elsewhere.
Ms Alonzi says if Scotland became independent but she could continue to have access to benefits such as the NHS as a Scot in England, she would remain in England.
"I think as long as things stay as they are - ie we could move freely and live freely in England - then I wouldn't move back to Scotland, I'd be perfectly comfortable."