Scottish independence: 'Basic answers' needed from SNP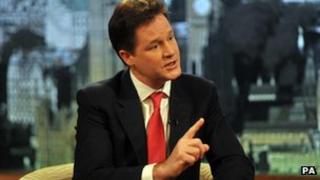 The deputy prime minister has called for "basic answers" on the referendum for Scottish independence.
The Scottish government is due to launch its consultation on the referendum process on Wednesday.
Nick Clegg said the SNP needed to outline the case for defence, taxation and currency in an independent Scotland.
The Scottish government said it would set out its detailed proposals this week.
The SNP has set a referendum date of autumn 2014, with other parties calling for the vote to be held sooner.
Mr Clegg told the BBC's Andrew Marr Show that the Nationalists now needed to make a detailed case of how an independent Scotland would function.
He said: "I really think at a time when the central argument is about the wisdom of wrenching Scotland out of the United Kingdom let's focus on that debate.
"And let's get the SNP to provide basic answers.
"You would have thought for a party whose whole, sole purpose in life is to advocate independence they would have been able to provide answers about what it means for defence, for taxation, for investment, the currency, and that's what I think we should focus on."
Scottish Secretary Michael Moore has also called for a "comprehensive explanation" from the Scottish government for delaying an independence referendum vote until 2014.
However, Mr Moore also welcomed "positive signals" that the first minister may be willing to drop his opposition to the Electoral Commission overseeing the referendum.
Alex Salmond has suggested a separate commission could be created to run the referendum.
The launch of the SNP consultation on the referendum will be followed by a meeting between the first minister and Scottish secretary on Friday.
Mr Moore said: "I hope that they will agree with us that it is in Scotland's interests to have the vote sooner rather than later and provide a comprehensive explanation of how any delay, and the associated uncertainty, could be in the interests of the Scottish people and economy."
Meanwhile, Mr Salmond has said he would back the creation of an English Parliament, put forward by Lib Dem deputy leader Simon Hughes but rejected by Mr Clegg.
The first minister called for both countries to be self governing in "a relationship of equals".
Speaking to Sky News' Murnaghan programme, the first minister said: "We will share a monarch, we will share a currency and, under our proposals, we will share a social union, but we won't have diktats from Westminster for Scotland and we won't have Scottish MPs poking their nose into English business in the House of Commons."
The first minister also reiterated his desire to discuss plans for a referendum with Prime Minister David Cameron.
Mr Salmond said: "I'd meet him as soon as possible. I've asked to meet him six times over the last six months. And he's now just agreed to have the meeting.
"But I'd meet him any time after we publish the consultation paper. I'd meet him at the end of this week or next week."
Last weekend Number 10 said arrangements for the meeting between the prime minister and first minister would be made "in the coming days".
'Made in Scotland'
Scottish Labour leader Johann Lamont has written to Holyrood party leaders to invite them to take part in all-party talks on the referendum.
She said Mr Salmond needed to realise he does not speak for all of Scotland.
Ms Lamont added: "It is deeply ironic that he is falling over himself to meet David Cameron, but he doesn't want to speak to the opposition parties in Scotland.
"This referendum should be made in Scotland. That means Alex Salmond should be speaking to the leaders of the other parties and civic Scotland before his consultation is even published."
The Scottish Conservatives echoed Mr Clegg's call for answers from the SNP.
The party's Murdo Fraser said: "It's high time Alex Salmond was straight with the electorate on what exactly an independent Scotland would look like."