Scottish independence: Referendum watchdog 'not impediment'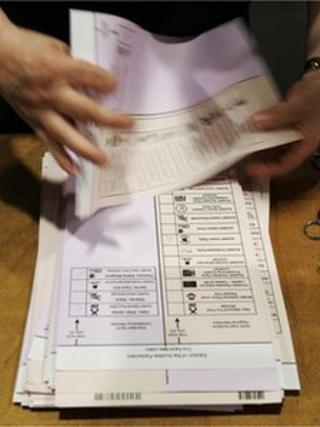 The Scottish government is preparing to drop its opposition to the UK Electoral Commission supervising an independence referendum, BBC Scotland has learned.
The SNP administration had proposed setting up a new Scottish body to oversee the ballot.
But the coalition UK government said the commission could be made accountable to the Scottish Parliament during an independence referendum.
This seems to have reassured Scotland's First Minister Alex Salmond.
A senior Scottish government source told the BBC the commission's involvement was no longer seen as an "impediment".
Mr Salmond has said his preferred date for the independence referendum is autumn 2014.
He will announce details of his government's consultation into the historic vote when he addresses the Scottish Parliament on Wednesday.
The UK government has offered to give legal authority on holding a referendum to the SNP government if it asks a simple yes or no question.
The Scottish government has said it does not need that authority to proceed.
It has rejected the offer of extra powers because of the "strings" attached.
Another of the sticking points had been disagreement over who would oversee the referendum.
The UK government thinks the Electoral Commission - which regulates elections, referendums and political donations across the UK - has expertise in such issues, and has a record of "fairness, impartiality and "transparency".
But the SNP had said the body was accountable to Westminster and not Holyrood and its board were appointed politically.
The Scottish government said it would much rather see a new body set up to keep an eye on proceedings.
But it appears they may be ready to drop that opposition if the Electoral Commission is made accountable to Holyrood.
A Scottish government spokeswoman said: "We will set out our detailed proposals for running the referendum in the consultation document we are publishing next Wednesday, which will be entirely fair, and people can judge them and submit their views."
A Scotland Office spokesman said: "If the reports that the Scottish government is prepared to allow the Electoral Commission to be involved in an independence referendum are confirmed, this would be a constructive step forward.
"We appear to be making steady progress on these issues since the launch of the UK government's consultation, with the Scottish government making positive comments on a single question and the use of a Section 30 order (to allow powers to hold a referendum to be transferred to Holyrood).
"Scottish Secretary Michael Moore very much hopes to build on that when he meets the first minister in Edinburgh next week."
Scottish Tory leader Ruth Davidson said: "We believe these issues should be dealt with on a basis of consensus rather than confrontation.
"The offer by the UK government that the Electoral Commission could report to Holyrood rather than Westminster for the referendum has been made in good faith and if these reports are true then it's a positive step forward."