Alex Salmond signs Abu Dhabi green energy deal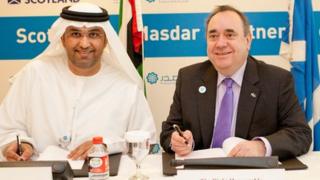 First Minister Alex Salmond has confirmed a deal with the Masdar green energy company as he continues his trip to the United Arab Emirates.
Masdar is a wholly-owned subsidiary of an Abu Dhabi government company.
The Scottish government said it was a "landmark agreement to develop tangible green energy products with Masdar".
Mr Salmond said that during the next three months Masdar would consider investing in three key energy schemes in Scotland.
The first minister told BBC Radio Scotland's Good Morning Scotland programme: "This agreement will mean huge things for Scotland. We will have co-investment, co-research, co-deployment and investment in Scottish renewables, Scottish companies will have opportunities here in Abu Dhabi.
"There will be exchange of scientific research and students between Abu Dhabi and Scotland.
"Together we can make a big difference in bringing renewable energy to the market place on a commercial basis and seeing the results of this innovation deployed not just in Scotland and Abu Dhabi, but across the planet and the worldwide market place.
"There is huge expectation and a buzz about this new relationship with Scotland and Masdar in Scottish renewable energy."
Mr Salmond praised the Crown Prince of Abu Dhabi, Mohammed bin Zayed bin Sultan Al Nahyan.
He said: "Mohammed bin Zayed bin Sultan Al Nahyan declared that Scotland had a special place in his heart and he is very much the instigator and driving force behind Masdar."
During his visit, Mr Salmond addressed world leaders who have been attending Abu Dhabi's World Future Energy Summit.
He called for "climate justice" to be central to decisions on energy and development.
Mr Salmond explained that those countries least able to cope with extreme weather should not be further disadvantaged in global energy policy.