MSP defends 'anti-Scottish' claim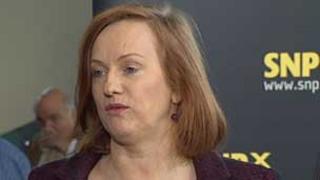 SNP MSP Joan McAlpine has stood by her claim that Labour and the Lib Dems were being "anti-Scottish" in their attitude to the planned independence referendum.
The comments led to heated exchanges at Holyrood on Thursday.
Conservative leader Ruth Davidson said the comments were "ignorant and petty" while Labour MSP Neil Findlay said they were an "utter disgrace".
Ms McAlpine said she was shocked by Labour MPs congratulating the Tory-led government for intervening in Scotland.
Ms McAlpine told BBC Scotland's Call Kaye programme: "They have been lining up in cahoots with the Tories.
"They have been lining up to congratulate the Tories for intervening into Scottish democracy and I will let the people of Scotland draw their own conclusions from that."
Ms McAlpine said that during the Scottish Parliament debate on the independence referendum she had asked Scottish Tory leader Ruth Davidson "how many people had joined the Conservative Party since David Cameron's attempt to take over our referendum?".
"Because 300 people have joined the SNP since his intervention on Sunday," Ms McAlpine said.
"She was not able to answer that question so chose to attack me on something else."
'Really serious'
Ms McAlpine, Alex Salmond's parliamentary liaison officer, added: "The issue here is the behaviour of the anti-independence parties coming together to stop Scotland having a referendum at a time of our choosing."
In a fiery exchange with Scottish Labour's deputy leader Anas Sarwar, Ms McAlpine said she was criticising the behaviour of the leaders of the Lib Dems and Labour.
Mr Sarwar said: "What is being questioned here is my commitment and my love of my country.
"The country in which I was born and brought up, the country to which my grandfather came in 1939 with nothing and made a life for himself. This is really serious."
He then said to Ms McAlpine: "Am I anti-Scottish?"
The SNP MSP for South of Scotland said he was trying to "personalise" her comments and she would not be drawn into that.