Scottish cancer treatment targets 'met early'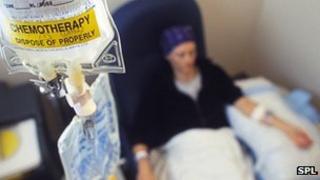 Most cancer patients in Scotland are starting their treatment within two months of an urgent referral, according to the latest official figures.
Between July and September, 96.7% of patients referred on suspicion of having the disease started their first treatment within 62 days.
That figures was up 1.1% on the previous three months.
And 97.9% of patients started getting medical help within 31 days of a decision being made to treat them.
The Scottish government said the figures meant the national waiting times target had been met early.
Commenting on the figures, Health Secretary Nicola Sturgeon said: "Cancer waiting times in Scotland continue to beat targets ahead of schedule, with 96.7% of patients starting treatment within 62 days of urgent referral with a suspicion of cancer and 97.9% of patients starting treatment within 31 days of decision to treat, both against a target of 95%.
"We will continue to closely monitor boards' performance against these targets in line with our detect-cancer-early initiative to improve cancer survival rates in Scotland."
NHS Borders said 98.6% of patients started treatment within 62 days, the highest rate among mainland NHS boards. The lowest, NHS Grampian, came in at 91.3%.
The longest wait recorded from urgent referral with suspicion of cancer to treatment was 145 days, also in NHS Grampian.
The aim had been to reach the target of having 95% of patients begin their treatment for both the 31-day and 62-day standards by the end of the year.