Glasgow and Edinburgh in line for new local TV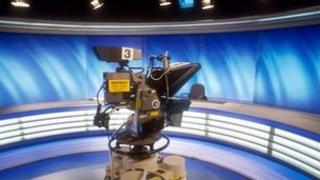 Glasgow and Edinburgh are the two locations in Scotland which have been chosen to launch local TV services.
UK Culture Secretary Jeremy Hunt said there would 18 other "pioneer areas" in the rest of the UK.
The aim is to create a series of "commercially viable" stations carrying locally-made programmes and news.
The new stations should be broadcasting from 2013. Aberdeen, Ayr, Inverness and Dundee are on the shortlist for second phase licences at a later date.
The first locations were chosen following a consultation to check the level of interest from potential operators and audiences in areas where it was thought to be technically possible to set up the services.
Legislation enabling the stations to be set up has still to be passed, but the government is going through the process of setting up the statutory framework.
Licences are expected to be awarded through competitive tendering, with bids from commercial and not-for-profit operators.
Mr Hunt said: "Local TV will be a fundamental change in broadcasting in this country, meeting a real demand for local news and content.
"We are now putting in place the measures needed to establish a series of commercially viable local TV stations.
"I am confident these new stations will provide local communities with programming which is relevant to their daily lives, will support local democracy, boost the Big Society and enhance local communities."
The government is planning to look into whether independent production companies should be allowed to bid for local licences.
Under current rules, they would not be allowed to own more than 25% of a local TV licence.
The BBC licence fee settlement last year allowed for the corporation to provide up to £25m of capital funding for local TV services, plus a further £15m to acquire local content. The final figure will need to be approved by the BBC Trust.
First phase - approved
Belfast, Birmingham, Brighton and Hove, Bristol, Cardiff, Edinburgh, Glasgow, Grimsby, Leeds, Liverpool, London, Manchester, Newcastle, Norwich, Nottingham, Oxford, Plymouth, Preston, Southampton and Swansea.
Second phase - shortlist
Aberdeen, Ayr, Bangor, Barnstaple, Basingstoke, Bedford, Cambridge, Carlisle, Derry/Londonderry, Dundee, Guildford, Hereford, Inverness, Kidderminster, Limavady, Luton, Maidstone, Malvern, Mold, Salisbury, Sheffield, Stoke on Trent, Stratford upon Avon and York.