Labour outlines its plan to tackle sectarianism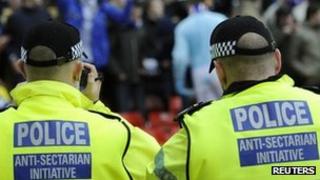 The Labour party has put forward a package of measures to tackle sectarianism in Scotland.
It claimed they would be more effective than the new anti-bigotry law proposed by the Scottish government.
Labour have suggested that the focus should be on education, public awareness and a crackdown on the sale of offensive merchandise.
The Scottish government said it would continue to pursue an "inclusive approach" on the issue.
The Offensive Behaviour at Football and Threatening Communications Bill is being considered by the Scottish parliament.
Scottish Labour said its approach, focusing on education and young people, aimed to address bigoted attitudes early in people's lives and prevent sectarian attitudes developing in the first place.
Labour spokesman James Kelly MSP said: "Our package of practical measures recognises that sectarianism does not stop at the stadium gates and demands a much more sophisticated response and none of the proposals require new legislation.
"I hope the SNP government engages positively with Scottish Labour's action plan that we believe can make a real, tangible difference in tackling sectarianism in Scotland."
The Scottish government has responded by insisting that a strengthening of the law is required.
A spokesman said: "We need to tackle the scourge of sectarianism wherever and whenever it occurs - be that on the terraces, in the street or at the workplace.
"The Offensive Behaviour at Football and Threatening Communications Bill is an important part of this overall effort in Scotland - giving police and prosecutors the extra tools they say they need to tackle this hatred by filling clear gaps in the current law, as detailed by the Lord Advocate."