Big response to Scottish gay marriage plan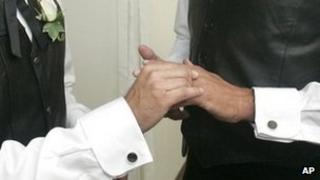 The Scottish government's consultation on bringing in same-sex marriage has had about 50,000 responses.
SNP ministers favour the move but it is opposed by big religious organisations such as the Church of Scotland and the Roman Catholic Church.
Submissions to the 14-week consultation close at midnight on Friday.
The government is now considering whether to change the law after getting one of the biggest reactions to a consultation it has ever had.
Same-sex couples in Scotland currently have the option to enter into civil partnerships, but the SNP promised in its manifesto to consult on new legislation allowing gay marriages in churches.
The government, which is today closing its consultation to submissions, has insisted no part of the religious community would be forced to hold gay weddings, but the move has still prompted controversy.
The issue has also split the SNP.
A parliamentary motion tabled by party MSP John Mason, stating no person or organisation should be forced to be involved in or to approve of same-sex marriage, sparked a row, with some of his colleagues saying his action encouraged discrimination.
At the same time, a "rainbow coalition" of organisations, including The Equality Network, Amnesty International, Unison and the Humanist Society of Scotland are among those campaigning for change.
Scotland's deputy first minister, Nicola Sturgeon, said all views would be listened to, but added that ministers "tended towards the initial view" that same-sex marriage should be introduced.