River Tummel anglers win garden decking row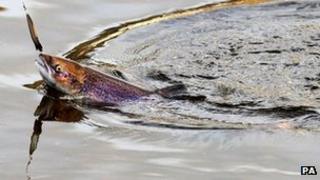 A lawyer has lost a long-running legal battle with anglers who say the decking in his garden gets in their way.
Branislav Sudjic decided to make the alterations at his home overlooking the River Tummel near Pitlochry, Perthshire, about eight years ago.
Anglers said the decking stopped them making full use of a salmon pool on that stretch of the river.
After years of legal argument, the Court of Session ruled the decking was a breach of anglers' rights.
The £3,000 structure extends for about eight metres from the solicitor's lawn, ending in a steel girder resting on iron poles set into the bank.
The row led to sheriffs and judges studying old books and legal texts going back to the 17th Century to determine whether the law made a distinction between different fishing techniques.
Tummel Valley Leisure - a Linlithgow syndicate of anglers - argued the decking had to go so members could cast flies into Moulinearn Pool regardless of whether they were right-handed or left-handed and whichever way the wind was blowing.
But Mr Sudjic, who practices in Kirkcaldy, said they could still take salmon by spinning with lures - and that was all the law entitled them to do.
A local sheriff sided with Mr Sudjic and refused to order him to tear down the decking.
'Wrong reading'
The anglers took their case to Sheriff Principal Alastair Dunlop who reversed the earlier decision in April 2010.
Mr Sudjic appealed to the Court of Session in Edinburgh - but lost.
In a written ruling, judge Lord Reed said the decking was a breach of the anglers' rights.
Alan Summers QC, for Mr Sudjic, claimed that provided salmon could be caught with a rod and line the decking should stay.
But Geoff Clarke QC, counsel for Tummel Valley Leisure argued that this was a wrong reading of the law, saying the anglers had a right to catch salmon by any and all lawful means - including fly fishing.
In reaching his decision, Lord Reed noted that as far back as 1612 there were court decisions preventing landowners building dykes on banks where fishermen wanted to draw up their nets.
The judge also referred to an 1892 Treatise on the Law of Scotland relating to rights of fishing.