Rainbow coalition backs Scots gay marriage law change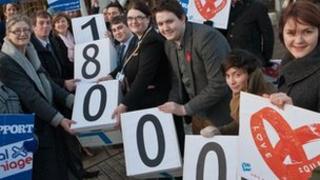 A rainbow coalition of organisations in favour of gay marriage has handed over 18,000 responses to a government consultation on the issue.
The Equality Network, Amnesty International, Unison and the Humanist Society of Scotland are among the group campaigning for change.
The consultation asking if civil or religious marriage should be allowed for gay people ends this week.
St Mary's Episcopal Cathedral in Glasgow also said it wanted change.
However, the Roman Catholic Church, the Church of Scotland and representatives from the Muslim community are against changing the law.
The government's Nicola Sturgeon has said all views would be listened to, but added that ministers "tended towards the initial view" that same-sex marriage should be introduced.
Tom French, policy coordinator for the Equality Network, said: "Today we have seen a rainbow coalition of organisations from across Scottish society voice their strong support for equal marriage.
"It is increasingly clear that the vast majority of Scots support same-sex marriage. For most people this is a simple issue of love, equality and fairness. If a same-sex couple love each other and want to get married, then why should they be banned from doing so?
"There can be no excuse for continuing to deny same-sex couples equality under the law. We hope the Scottish government will listen to what is being said, stand by its values and legislate for equal marriage."
As as the Equality Network, the rainbow coalition includes the Scottish Youth Parliament, Amnesty International, Unison, the Humanist Society of Scotland, LGBT Youth Scotland and NUS Scotland.
Ministers and government officials have been meeting key groups to discuss the proposals which would ensure religious organisations do not have to register same-sex marriages against their will.
Last week Ann Allen of the Church of Scotland joined Cardinal Keith O'Brien, leader of the Catholic Church in Scotland, at the launch of the "Scotland For Marriage" campaign outside the Scottish Parliament.
They were joined by former SNP leader Gordon Wilson and a group of around 200 supporters.
The group supports the current legal definition of marriage and is resistant to plans to redefine it to include same-sex couples.
In its submission to the consultation, the governing body of St Mary's Episcopal Cathedral said it acknowledged that some people were still troubled by the proposals
The cathedral's provost, the Very Rev Kelvin Holdsworth said: "As this is a place where gay couples can already seek God's blessing on their Civil Partnerships, it would be unsurprising if there were not gay couples who look to us for marriage when the law is changed to allow this to happen.
"We believe that gay couples can show forth God's grace in the same way that straight couples can. I believe that grace and love are at the heart of what the church believes about marriage, not necessarily the gender of the participants."