Scottish class sizes up slightly as teacher numbers dip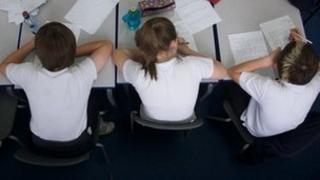 The number of Scottish teachers has continued to fall, the latest education statistics have revealed.
There were 51,441 full time equivalent teachers in 2011, 657 fewer than the revised 2010 figure of 52,098.
The average class size for pupils in P1, 2 and 3 rose slightly from 22.4 in 2010 to 22.5 in 2011.
Education Secretary Mike Russell said the current number of teachers in local authority schools exceeded the local government agreement target of 51,131.
The statistical bulletin also revealed that pupil to teacher ratios also increased slightly, from 13.3 in 2010 to 13.4 in 2011.
About 66% of 2010-11 probationer teachers were in permanent or temporary employment in publicly funded schools in September 2011 - a rise from 58% on the previous year.
About 98.9% of P1 pupils were in classes of 25 or fewer and the overall average class size in primary school was 22.7%, up from 22.5% in 2010.
In terms of authorised and unauthorised absences there was a small rise - from 6.7% in 2009-10 to 6.8% in 2010-11.
An 11% decrease in exclusions from local authority schools was recorded - there were 26,844 cases in 2010-11 compared with 30,211 in 2009-10.
The proportion of schools reported as being in good or satisfactory condition has increased from 61% in April 2007 to 80% in 2011. The number of pupils educated in poor or bad condition schools has decreased from 256,794 (37%) in April 2007 to 113,555 (17%) in April 2011.
The figures also said the proportion of young people entering higher or further education has increased from 56.0% in 2008 to 63.0% in 2011.
The proportion of leavers entering employment increased from 18.5% in September 2010 to 19.3% in September 2011, although the report said that remained below the 25.3% seen in 2008.
The SNP minister Mr Russell said: "Today's figures show that, in line with our agreement with our partners in teaching unions and local government, they have delivered our commitment to maintain teacher numbers. The statistics report that teacher numbers in local authority schools stand at 51,286, in excess of the target of 51,131."
Mr Russell went on: "The average class size for primary 1 is down from 21.1 in 2010 to 20.5 in 2011, a new record low. The number of P1 pupils in classes of more than 25 is down from 6,896 to 638 in 2011, a total reduction of 90% since the legislation was introduced.
"The information also shows that attainment has improved, more children are leaving school for positive destinations and that exclusions are down. In addition, key investments in school buildings have resulted in more children attending better quality schools.
"From today's information the outlook for Scotland's schools is good. But I must stress that we are not complacent. In the face of Westminster cuts we will continue to work hard to deliver further improvement."
Scotland's largest teaching union, the Educational Institute for Scotland (EIS), welcomed the news that local authorities had met the target figure of 51,131 full-time equivalent (FTE) teachers in employment in Scotland's schools.
The figure was set as part of a jobs guarantee for teachers negotiated with the unions and the Scottish government.
EIS general secretary Ronnie Smith said: "These are difficult times for everyone, including for education and public services, so it is welcome that Scottish local authorities have met their commitment on teacher employment numbers for this year.
"In a very tough financial climate, the EIS struck a deal with employers to guarantee teachers' jobs and new employment opportunities.
"It is this agreement that has led to today's announcement of a stable number of full-time teaching positions in our schools, which has delivered jobs for thousands of teachers across Scotland."
Earlier, Mr Russell defended the mass publication of the education data.
He told BBC Radio's Good Morning Scotland programme that the move was not about burying bad news.
'Feel let down'
Mr Russell said: "When I became education secretary we used to publish education statistics every second day, one was up, one was down, it was impossible to get any real view of what was taking place.
"Now we publish education statistics twice a year."
Labour's education spokesman Ken Macintosh said the statistics were evidence of "a quiet crisis brewing in our classrooms".
He added: "Despite their promises, the SNP has allowed teacher numbers to fall every year since they took office. Even on pupil teacher ratios, as opposed to class sizes, the SNP government is doing exactly the opposite of what they said they would do.
"I worry not just for our teachers but for our children, who are the real losers here."
The Tory Party's Liz Smith said the data was "embarrassing" for the SNP.
She added: "They promised smaller class sizes, lower pupil to teacher ratios and that they would maintain teacher numbers across the board.
"Almost everything is going in the opposite direction to what they pledged.
"Parents in every corner of Scotland, especially those who believed the SNP manifesto in May and voted for them, have every reason to feel let down and angry."